Serving the Public Interest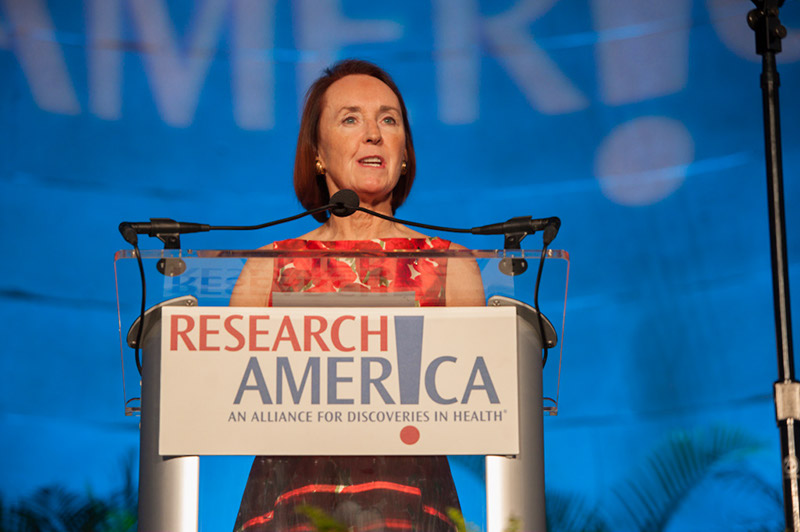 Dear Research Advocate,
We sent a letter to President Trump yesterday in support of Dr. Anthony Fauci, noting: "the depth of expertise he brings to COVID-19 response efforts is an asset our nation simply cannot afford to forsake." A conversation with the inimitable Dr. Fauci will be among those featured at our virtual National Health Research Forum, September 8-10, 2020. Please mark the dates and look for more information soon.
Good News: To the relief of many students and universities, the Administration earlier this week rescinded a proposed policy which would have denied visas to international students forced by the pandemic to engage in remote learning at our nation's universities and colleges. The fierce outcry against the policy included lawsuits and advocacy by academia, scientific societies, students, and industry. Yet, the battle to protect the ability of foreign students to study in the U.S. is far from over, as MIT President L. Rafael Reif explains in a New York Times op-ed.
On Capitol Hill: It's a busy time on Capitol Hill with FY21 appropriations bills moving forward in the House. The Appropriations Committee has completed marking up its twelve bills and floor consideration will start next week. The bills will be considered in a series of "minibuses" in which several bills are packaged together. We have heard that the Ag-FDA bill will be included in the first minibus next week, with Labor-H (which includes NIH, CDC, BARDA, and AHRQ funding) and Commerce-Justice-Science (which includes NSF funding) to follow the week of July 27. On the other side of the Capitol, Senate appropriators remain at a standstill over disagreements about possible amendments.
In separate action, Senate Republican leaders have indicated they intend to start discussions in earnest around a fifth COVID-19 emergency supplemental as soon as next week. Resolution of differences — around liability protections, funding for schools, and enhanced unemployment benefits — has slowed the process. We continue to urge Congress to include funding to restart pandemic-stalled and reprogrammed research. Earlier today we sent a letter to Congressional leadership urging just that. Please ask your Members of Congress to champion the inclusion of research relief in the next supplemental.
Working Together in the Public Interest: Over 20 of the largest global pharmaceutical companies, joined by WHO and other multilateral organizations, have created a billion-dollar fund to support antibiotic R&D by smaller companies. The AMR Action Fund aims to reverse our dangerously fragile antibiotic pipeline. For background on AMR, download our fact sheet (our fact sheets are generously supported by the Lasker Foundation).
Research Serves the Public Interest: Dr. Gary Gibbons, Director of the National Heart, Lung, and Blood Institute (NHLBI) at NIH joined our alliance member call earlier this week. He explained how COVID-19 leads to blood clots that can damage the heart and lungs. Dr. Gibbons spoke of "an unprecedented response…to an unprecedented public health crisis that has taken an all hands on deck approach that really promotes this notion of the entire ecosystem working together with patients and communities at the center." Hear, hear! Access the discussion.
Dr. Chris Austin, Director of the National Center for Advancing Translational Sciences (NCATS) at the NIH, along with Deputy Director Dr. Joni Rutter, joined an alliance call last week to share several cutting-edge, data-driven, collaborative initiatives in the pre-clinical and clinical arenas to improve treatment for COVID-19 patients. Catch their fascinating presentation here.
Serving the Public Interest on the Front Lines: Join our next alliance member webinar (July 23, 2020, at 1:30 p.m. ET) with Dr. Judith Salerno, President of the New York Academy of Medicine. A well-known healthcare leader, Dr. Salerno was retired from clinical practice when she responded to the urgent call for help on the frontlines of the pandemic. We've invited Dr. Salerno to share her experience of caring for ICU patients at Bellevue, a large public hospital. Please join us for this special conversation.
Equity Serves the Public Interest: It's well-established by now that people of color have suffered highly disproportionate harm from COVID-19. New data from the CDC shows the percentage of deaths among Black and Latinx patients under the age of 65 to be more than twice that of white patients. This is totally unacceptable and we must do better. Dr. Eliseo J. Pérez-Stable, Director of NIH's Institute on Minority Health and Health Disparities (NIMHD) will join our alliance member meeting on July 27 to discuss what we can do to improve outcomes for people of color and address disparities.
Stay well, stay safe, and stay connected.
Sincerely,
Mary Woolley