State of the Union: Key Takeaways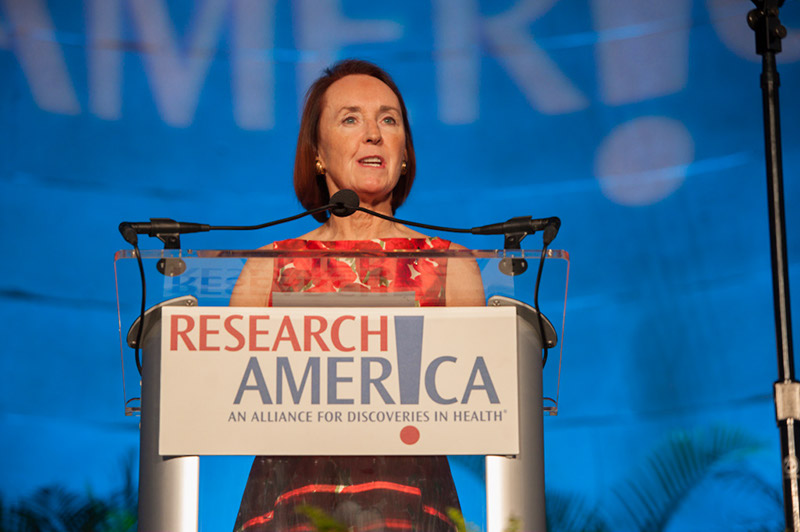 Dear Research Advocate,
We were pleased to hear President Trump, in his State of the Union address (SOTU) earlier this week, highlight the importance of progress against health threats. Specifically he referenced mental health challenges, Alzheimer's disease, kidney disease, HIV/AIDS, the opioid epidemic, childhood cancer, and the current coronavirus outbreak.
What we didn't hear, unfortunately, is that the President will grow federal funding for research. Nor did we hear him speak of plans to assure U.S. leadership in the global R&D arena, giving it the priority merited by its strategic significance.
The President's references during the SOTU to dramatically lowering prescription drug prices — seemingly as a quick fix for rising health care costs — is another signal that U.S. R&D is not being treated as a strategic priority.
Do not get me wrong. Our nation must find ways to ensure medical advances are affordable and accessible. Pricing is part of that equation. However, it does not serve the public good to treat one part of the equation as all of it. The private sector, which finances 67% of all health-related R&D conducted in this country, is a crucial element of an interconnected ecosystem that encompasses R&D, health care delivery and financing, prevention, and more. Each segment of this ecosystem brings with it tremendous societal benefit as well as cost-related challenges.
Patients — and we are all patients — deserve solutions that honor the need for faster medical progress, recognize the complexity of factors influencing health care spending, and confront the issue in its entirety and head-on.
The President announced a new neonatal research initiative, yet his Administration has put virtually impossible-to-clear regulatory obstacles in the way of already highly regulated fetal tissue research. Among the many ways fetal tissue research contributes to medical progress, scientists say there is no path — and inherently cannot be another path — that provides close to the same level of insight into neonatal development as does fetal tissue research.
President Trump is not the only President in our nation's history to neglect the state of U.S. R&D in his state of the union address, over-simplify the affordability issue, or attempt to stop fetal tissue research without regard to the promise it holds for patients and despite the fact that it has already been repeatedly adjudicated on both scientific and ethical grounds. And if, as expected, his FY21 budget proposes deep cuts to science even though those cuts place medical progress and the future of our nation at risk, he won't be the first to do that either.
What does all of this mean? It means advocacy is imperative. All of us, stakeholders in research for health, have work to do. Get in touch with Research!America on any or all of these issues. And, save the date for our next alliance member meeting/call, Thursday, February 20 at 2 p.m., when we will take a deeper dive on these topics.
There is, fortunately, a rising tide of attention to mental health, not only mentioned by the President in his SOTU but also the issue Americans cite most often, after health care costs, as the most important health issue facing our nation. Former Congressman and emeritus Research!America board member Patrick Kennedy, along with former Senator Gordon Smith, hosted an inspiring, standing-room-only forum today to drive advocacy for mental health parity and for promoting faster translation of neuroscience research findings to improve the lives of those facing mental health challenges and addiction.
One of the many reasons mental health parity is so important: bolstering access can help address the treatment gaps racial/ethnic minority groups in the U.S. face. The National Institute on Minority Health and Health Disparities (NIMHD) at NIH is at the forefront of efforts to overcome these and other disparities. Register here for a March 3, 2020 symposium celebrating the Institute's 10th anniversary. The event will also be available on NIH Videocast and archived for those unable to attend in person.
Sponsorships and individual tickets are available for our 2020 Advocacy Awards dinner on March 11. Email Katie with questions at kgoode@researchamerica.org. Today we announced our Whitehead Award recipients, Senator Mike Enzi (R-WY) and Congresswoman Anna Eshoo (D-CA). Learn more about each of our honorees through our Q&A series, which we post each Tuesday. This week, meet Dr. Paul Offit, co-recipient of the Geoffrey Beene Foundation Builders of Science Award.
Sincerely,
Mary Woolley