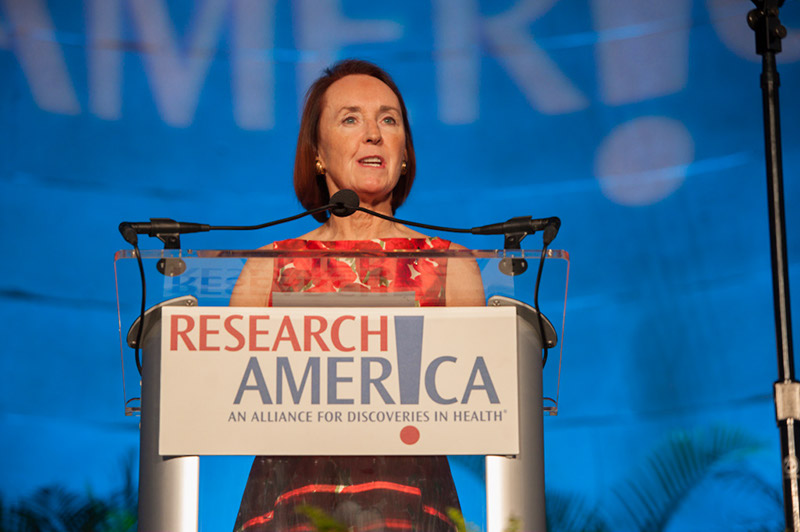 Dear Research Advocate,
We lost two extraordinary Civil Rights heroes this past weekend, John Lewis and C.T. Vivian. Of these courageous, committed advocates, Dr. Louis Sullivan, former HHS Secretary, Research!America emeritus board member, and friend to research advocacy, said in a statement: "The lives of millions are better today because of their leadership and their sacrifice."
AAAS has begun a "transition to a lifelong commitment of actions to eradicate anti-Black racism in academia and STEM." AAAS CEO and Research!America board member Dr. Sudip Parikh is leading the three-phase effort. You can review the first phase of the draft plan now. AAAS welcomes your feedback; please email suggestionsforaaas@aaas.org.
On Capitol Hill: Earlier today the White House and Senate Republican Majority released information on the package of supplemental funding legislative proposals they've negotiated. The final details are still being worked out, but we believe the appropriations bill within this package will contain $15.5 billion to restore COVID-19- eroded NIH grant funding. This a terrific development, and a testament to the power of (your!) advocacy. To begin with, you sent over 1,300 emails! Research!America released a statement to the media today.
So what's next? You may recall that in May, the House Majority included nearly $5 billion in NIH research recovery funding as part of its supplemental spending bill, the HEROES Act. Unfortunately, neither the House nor Senate bill includes funding to address the corrosive effects of COVID-19 on NSF grants and those of other key research agencies. Advocates for fast-paced medical and scientific progress have two jobs: secure at least $15.5 billion for NIH and $16 billion for other critically important, COVID-19 impacted research. Contact your members of Congress now.
(P.S. If you've already contacted your representatives in the House and Senate this week, connect with them again with this new ask! The size and scope of research relief hang in the balance.)
Separately from supplemental appropriations, the House is moving forward on FY21 appropriations bills. Tomorrow, they will be voting on a "minibus" legislative package that includes funding for the FDA, and a vote is expected next week on a second minibus that includes funding for CDC, NIH, NSF, and AHRQ. The Senate appropriations process is still paused, increasing the odds of flat-funding for the federal government under a Continuing Resolution (CR) that lasts past Election Day. (Stagnating now, when COVID-19 is showing just how high the price of stagnation is? Our nation can do better. Stay tuned for further advocacy opportunities!)
Research Needs Your Help: The NIH Human Fetal Tissue Research Ethics Advisory Board (a new layer of scrutiny that was imposed on this research last summer) is scheduled to meet on July 31, 2020. The Board members have not been announced. Public comments have been invited, and Research!America signed onto a letter to the Board in support of human fetal tissue research, which plays a unique role in the study of human development and without which the usefulness of alternative research approaches cannot be accurately evaluated. If your organization is interested in signing on, here is the letter and the form to do so. The deadline to sign is COB on July 27, 2020.
Front Line Courage: Many of you joined us today to hear from Dr. Judith Salerno, President of The New York Academy of Medicine. Judy returned to practice to treat COVID-19 patients at Bellevue, the largest public hospital in NYC. Ambulance sirens prompted Dr. Salerno to revisit her 35-year-old medical school oath: "Respond always in an emergency." Her first-hand account is inspirational and instructive, as she and others learned about the challenges of treating patients with limited supplies and rapidly evolving treatment protocols. We will post the recording as soon as it is available.
More on Capitol Hill: Yesterday, the House Committee on Energy & Commerce Subcommittee on Oversight and Investigations held a hearing focused on COVID-19 vaccine development. Featuring several vaccine manufacturers deeply involved in developing safe and effective COVID-19 vaccines, the hearing reinforced the pivotal role public-private partnerships play in addressing the need for fast-paced medical progress.
For Alliance Members: Join us Monday, July 27, 2020, at 2:30 p.m. ET to hear from Dr. Eliseo J. Pérez-Stable, MD, director of the National Institute on Minority Health and Health Disparities (NIMHD) at NIH. Register now.
Looking ahead: Please mark your calendar now for our (virtual) National Health Research Forum (September 8-10, 2020 — registration opens soon). We are honored that Dr. Sullivan has agreed to participate in a discussion focused on concrete actions to achieve health equity. Dr. Sullivan — like Congressman Lewis, Rev. Vivian, Constance Curry, Charles Evers, and countless others — is not a hero only because he inspires change, but because he leads it.
Stay well, stay safe, and stay connected.
Sincerely,
Mary Woolley