The public context of research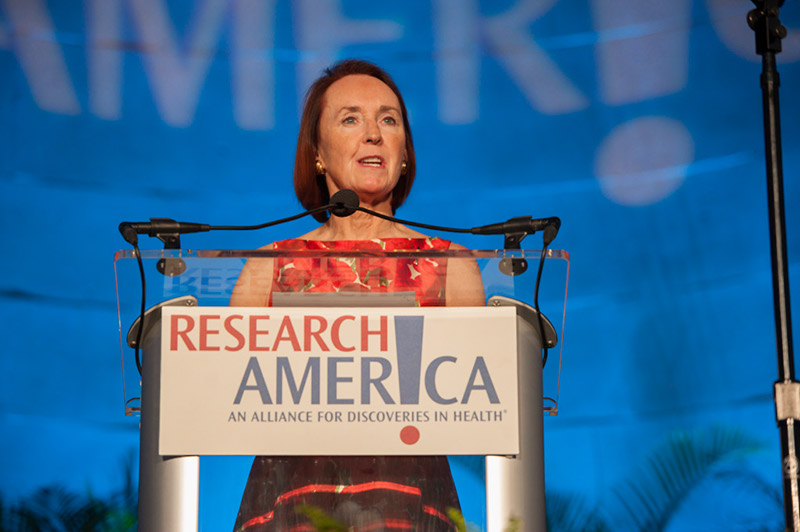 Dear Research Advocate,
Peter McPherson, President of the Association of Public and Land-grant Universities (APLU) has authored a timely op-ed in USA Today arguing that China's determination to secure global economic leadership is not only reflected in its trade practices, but also in its robust investments in R&D. Meanwhile, our nation shows disturbing signs of allowing R&D to falter, ceding global economic competitiveness in the process.
Surveys commissioned by Research!America tell us that fewer than 4 in 10 Americans say they have confidence that the U.S. will maintain our global standing in science and innovation. But as McPherson notes, we still have advantages and still have time to act.
As I argue in Morning Consult, the urgency of investing in R&D is also driven by the palpable need to save lives, and that investment is stymied by the sequestration budget caps. Every federally funded public health and science agency could face steep cuts if the budget caps are not lifted. For the 38 percent of Americans who will be diagnosed with cancer at some point in their lifetime, for the six in 10 American adults living with a chronic disease or disorder, slowing — rather than accelerating — research investment is more than a strategic mistake, it could be a tragic one.
Negotiations on raising the budget caps will reportedly resume when Congress returns from a week-long break. Check out our advocacy action page to keep the social media drumbeat going and make sure there are plenty of messages waiting when your representatives are back in DC. (This 500 organization-strong coalition letter, which we were glad to join, provides compelling arguments for your outreach!)
Optimistically assuming that Americans will insist that the budget caps be raised, the House Appropriations Committee yesterday considered FY20 funding for the National Science Foundation through the Commerce, Justice, Science Appropriations bill. The bill provides $8.64 billion for the agency, an increase of more than $560 million or 6.9% above FY19. The House Appropriations Agriculture Subcommittee passed their bill today. The bill includes $3.26 billion in funding for the Food and Drug Administration, an increase of $184 million or nearly 6% over FY19.
It's graduation time for many and that means we are all the beneficiaries of stirring speeches. This year no one is likely to top Robert Smith's pledge to pay off college debt for all 2019 Morehouse College grads! So instead of quoting worthy speeches, I want to bring to your attention several unusual course offerings that speak, in their different ways, to the public context of research.
For example, the University of Washington offers a "Calling BS" course (Syllabus); Northeastern University requires all computer-science students to take an improv class (WSJ-subscription required); and the University of Chicago's first year medical student course, "Health Disparities and Advocacy," began as an elective offering, until students insisted it become a required course. Even as Mr. Smith and other philanthropists are empowering graduates to move faster to make a difference in the world, colleges and universities are stepping up to offer their students tools for success that include the ability to communicate to non-professional audiences, to understand the intersection of science, policy and politics, and to learn how to be effective advocates. (If you know of other courses that fit this description, please let me know. We want to spread the word!)
Research!America, AAAS, AAMC, AAU, and SfN are partnering on a briefing on the Bayh-Dole Act, the landmark law that established a framework for "tech transfer." Join us on June 13, 2019 for a networking coffee and briefing, starting at 9:30 a.m. The event will also be livestreamed. Seating is limited; register now.
Sincerely,
Mary Woolley