The Solutions Will Come From Science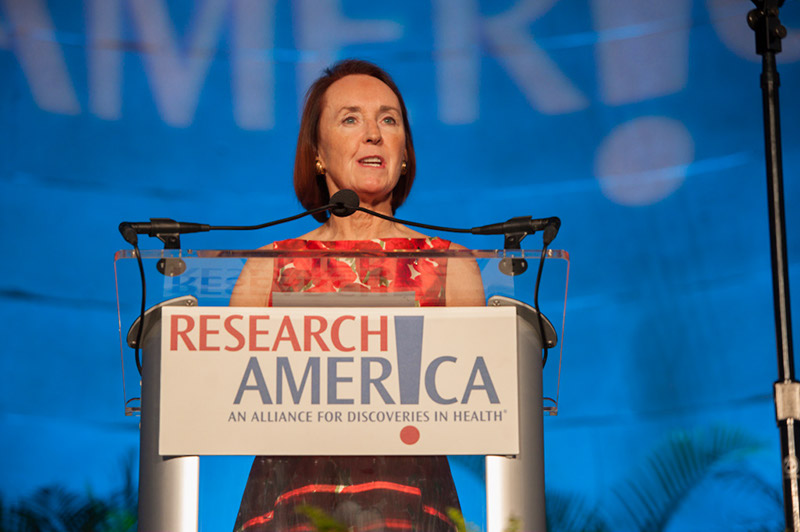 Dear Research Advocate,
Mentioned here last week and the focus of an alliance member webinar earlier this week, the President issued an executive order (EO) extending and imposing new restrictions on worker and student visas. Our statement expresses opposition. Let's face it — this EO essentially forces our nation to shoot itself in the foot.
Bernat Navarro-Serer of the Johns Hopkins Science Policy Group (and a Research!America 2019 student microgrant recipient) makes the case for sustaining our nation's long-standing student visa programs. From the article: "…a suspension on work visas sends a strong message to current and future students seeking an education in the United States: You are not welcome." Heartbreaking for individuals; devastating for our nation's culture of innovation; counter to such fundamental goals as global R&D leadership and enduring economic competitiveness.
On Capitol Hill: House Appropriations Committee Chairwoman Nita Lowey (D-NY) sent a letter to her fellow appropriators earlier this week announcing that the 12 FY21 appropriations bills will be marked up during the weeks of July 6 and 13. Floor debate on the bills is expected the weeks of July 20 and 27.
Advocacy Alert: Meanwhile, the appropriations process in the Senate is on pause, potentially until September. That timeframe would all but guarantee yet another year in which flat funding under a continuing resolution replaces an up-to-date budget — an outcome counter to the best interests of our nation in myriad ways, including the chilling effect on medical progress. Look for relevant advocacy opportunities in next week's letter.
Speaking of working to counter threats to medical progress, Representatives Diana DeGette (D-CO), Fred Upton (R-MI), Eddie Bernice Johnson (D-TX), Frank Lucas (R-OK), Anna Eshoo (D-CA), and Anthony Gonzalez (R-OH) introduced the Research Investment to Spark the Economy (RISE) Act yesterday, a bill that would authorize approximately $26 billion in supplemental grant funding to aid in research recovery. Use this editable email to encourage your Representative to sign on as a co-sponsor!
Research relief was a key theme of last week's webinar, Partnership, Progress, Pandemic. NCI Director Dr. Ned Sharpless and other terrific participants discussed the status of health-related R&D and what it will take to reboot stalled research. If you missed it live, take a few minutes to watch and share!
Two Important Public Health Advocacy Opportunities: First, if your organization has not yet done so, consider signing on to this letter to congressional leadership calling for the funding needed to sustain and strengthen our nation's public health infrastructure. Questions? Email Dara Lieberman at dlieberman@tfah.org. Deadline to sign is July 2, 2020.
Second, APHA, ASTHO, Big Cities Health Coalition, NACCHO, and TFAH, are circulating a sign-on letter encouraging HHS Secretary Azar to bolster and affirm the crucial role of the CDC as our nation continues to navigate the COVID-19 pandemic (and a plethora of other public health challenges). The deadline to sign is June 30, 2020. For further information, email Daphne Delgado at ddelgado@tfah.org.
The Effects of COVID-19: "I don't think there's ever been a period where it has been more evident than what we are living in currently: The solutions will come from science." —Dr. Nora Volkow
Yesterday, we held an alliance member webinar featuring Dr. Nora Volkow, Director of the National Institute on Drug Abuse (NIDA) at NIH, who discussed the complicated landscape of COVID-19 and substance use disorders. The mix of uncertainty, high stress, social distancing, and other factors is a dangerous combination that "generates a fear that in turn is associated with high vulnerability for behaviors that can be detrimental to our health."
Former Congressman and former Research!America board member Patrick Kennedy also joined the webinar. Congressman Kennedy discussed the ongoing challenge of achieving true parity in mental health and substance abuse disorder treatment and coverage. He also issued a call to action: "The biggest challenge I can make to our country for what will transform mental health care is for people to participate in research."
For Alliance Members: Join us Monday, June 29, 2020, from 1:30-2 p.m. ET for a virtual discussion with former CDC Director Dr. Tom Frieden about the steps needed to bolster readiness against future public health emergencies. Register today.
For All: The Lasker Foundation supports our popular Fact Sheet series. Please download and share three new fact-packed documents, Tobacco Use and Addiction, Alopecia Areata, and Endometriosis. Also from our website: a guest blog article from our member spotlight series, the Myasthenia Gravis Foundation of America on the important role that patient advocacy groups play in the research ecosystem.
Lastly, a hearty welcome and congratulations to Sethuraman "Panch" Panchanathan for being unanimously confirmed by the Senate as the 15th director of the National Science Foundation. We wish you and NSF much success!
Stay well, stay safe, and stay connected.
Sincerely,
Mary Woolley