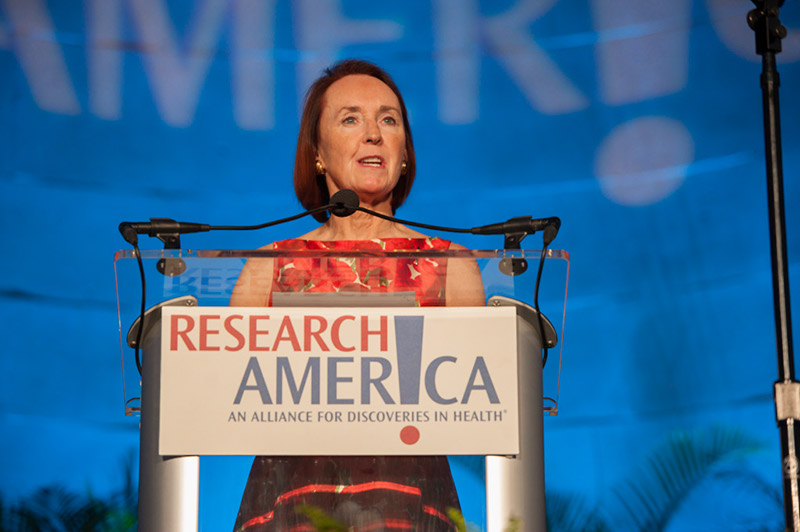 Dear Research Advocate,
Last summer, the administration announced a new policy targeting fetal tissue research. The Washington Post reported this week on the troubling consequences for scientists, scientific progress, and thus patients. Research!America stood with patients and researchers against this retrograde policy change when it was first contemplated and, as part of a coalition led by the International Society for Stem Cell Research (ISCCR), we continue to push back. (It's well to remember that fetal tissue research is not only playing a significant role today in research for vaccine development, Down syndrome, MS, and Parkinson's, but its untapped potential holds significance for diseases and conditions we can't predict in advance. That's the power of science.)
One aspect of the new policy requires an additional level of review for research involving fetal tissue. The U.S. Department of Health and Human Services (HHS) is expected to request nominations for members of a Human Fetal Tissue Research Ethics Advisory Board soon. While there are several "reserved spots" on the board, none are designated for what I'd argue should be a highly influential voice: that of patients. You can do something about this: pursue an undesignated seat on the board. Contact Ellie at edehoney@researchamerica.org if we can assist.
We know from our regularly-commissioned public opinion surveys that there is a downward trend in public belief that we are making enough progress in health research. Research can't progress with one hand tied behind its back!
More troubling trends: A new NSF report notes, among many findings of interest, that the relative global position of the U.S. in science and engineering is declining, even though the U.S. continues to spend the most on R&D. As has been oft-remarked, other nations, most notably China, are drawing from the U.S. playbook of the last century to rapidly develop their R&D capacity. The White House Office of Science and Technology Policy (OSTP)-led Joint Committee on the Research Environment (JCORE) has been responsive to a number of troubling trends. It has recently extended the deadline for policy recommendations related to improving the safety, integrity, productivity, and security of the nation's research environment. Offer your recommendations here.
We have been working with the National Health Council to identify avenues for enhancing the National Library of Medicine (NLM)-led ClinicalTrials.gov. We've had the opportunity to meet several times with NLM leadership and to gain insights from a diversity of patient organizations and clinical researchers on the most critical enhancements needed to foster increased clinical trial participation. NLM just launched a modernization project, and invites your feedback. Here is a link to the ClinicalTrials.gov Modernization RFI. NLM is holding a public webinar about the project on January 22, 2020 from 3:30-4 p.m.
As I noted last week, we don't expect smooth sailing when it comes to Fiscal Year 2021 funding. Securing increased funding for NIH and other research and public health agencies and doing so on a timely basis will be a challenge. Many members of Congress have not served long enough to participate in a normally functioning or "regular order" appropriations process even though the alternative to regular order entails delayed funding for research, compromising public health, national prosperity and security. Make sure your members of Congress hear from you.
Two final items: join our next Research!America alliance member meeting on Monday, January 27, 2020 from 2-3 p.m. ET in person or by phone (More info here), and plan on attending our annual advocacy awards dinner! More info here.
Sincerely,
Mary Woolley