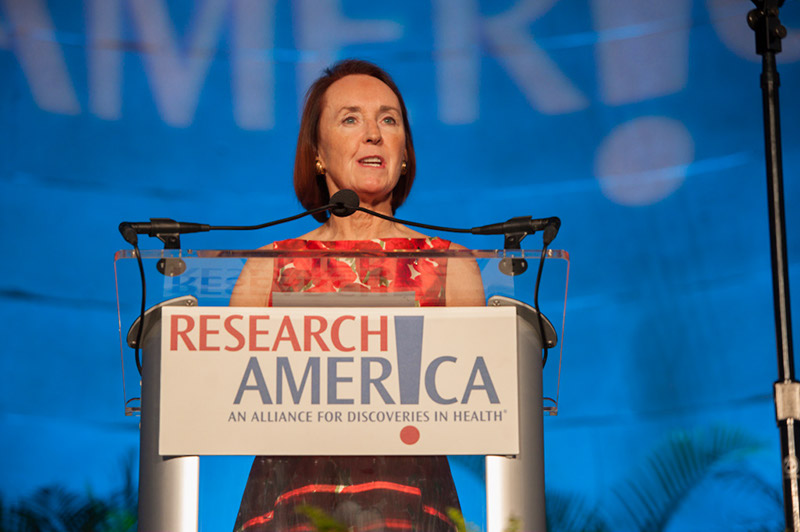 Dear Research Advocate,
Today, the House Commerce, Justice, and Science (CJS) Appropriations Subcommittee released its Fiscal Year 2020 funding bill, which they will consider tomorrow. The good news is that the bill contains the largest increase in funding for the National Science Foundation (NSF) in several years; the bad news is we can't get there from here unless we #RaisetheCaps.
On that subject, President Trump and Senate Majority Leader McConnell have met to discuss the importance of a caps deal; according to news reports, the President was receptive. It is critical for stakeholders to reinforce the need for a deal now, while both the President and Congress are focused on it. If momentum wanes, it will be too late to avoid deep funding cuts. Use our action center to weigh in and urge Congress to #RaisetheCaps now!
Another issue that relates to – and extends beyond – the appropriations process: last week an amendment to stop federal funding for fetal tissue research was offered in the House in conjunction with the "Labor-H" appropriations bill. While that amendment failed, the threat of a ban on federal funding for this research remains. Last year, the Department of Health and Human Services (HHS) initiated a review of alternatives to fetal tissue research, and the NIH stopped procuring fetal tissue for intramural research. The Administration has not yet taken action to stop federal funding for fetal tissue research, but the proffered amendment has brought the issue back to the forefront. Patients – and we are all patients – must get involved now to prevent medical progress from slowing. Contact Ellie for ways to get involved.
On Tuesday, Research!America and the Friends of Cancer Research sent a letter to the Senate Homeland Security and Government Affairs Committee expressing concerns regarding the Federal Advisory Committee Act Amendments of 2019 (H.R. 1608). AAMC and other research and public health advocates have also weighed in. The goals of this bill – increased accountability and transparency in federal decisionmaking – are truly laudable, but the bill's approach would hamstring federal peer review and prevent agencies like the CDC from acting with flexibility and speed when public health threats emerge or intensify. Fortunately, the Committee listened, and consideration of H.R. 1608 has been postponed.
In observance of Mental Health Awareness Month, we have released a new fact sheet focused on a debilitating condition that affects a staggering 300 million people worldwide: depression. Fact sheets are a great addition to your advocacy tool kit. Use them often!
It's Clinical Trials Awareness Week. This year's awareness week is focusing on support services to address financial barriers for clinical trial participants. In a national survey of U.S. adults we commissioned in July 2017, fully 80% of respondents said they had heard of clinical trials, but only 18% said they or a member of their family had participated in a trial. The survey confirms that perceived financial burden is one of several concerns people have about enrolling in a clinical trial. Is your organization involved in efforts to increase clinical trial participation? Let us know so we can join forces; Research!America is committed to ensuring that patients – and we are all patients – can access information, both general and specific, on clinical research participation. If you'd like to compare notes, contact Anna.
Research!America, the American Association for the Advancement of Science (AAAS), Association of American Medical Colleges (AAMC), Association of American Universities (AAU), and the Society for Neuroscience (SFN) are partnering on a briefing on the future of the Bayh-Dole Act, the landmark law that established a framework for "tech transfer." Join us on June 13, 2019 for a networking coffee and briefing, starting at 9:30am. The event will also be livestreamed. Contact Sara to register.
Our next alliance member meeting is May 24, 2019 at 11 a.m. ET with special guests from the Senate Health, Labor, Education, Pensions (HELP) Committee. Grace Stuntz with Chairman Alexander's staff and Nick Bath with Ranking Member Murray's staff will discuss the Senate HELP Committee's 2019 priorities. The meeting will be in-person only with the location on Capitol Hill to be announced. To RSVP, please click here. If you cannot attend and have any questions you would like us to pose to the Committee staff on your behalf, please let Anna know.
Time flies! The deadline to submit a nomination for one of Research!America's 2020 Advocacy Awards is tomorrow! Act now to nominate those you want to recognize for outstanding advocacy leadership. The awards will be presented at our awards event next March.
Sincerely,
Mary Woolley