Will Science Be the Winner?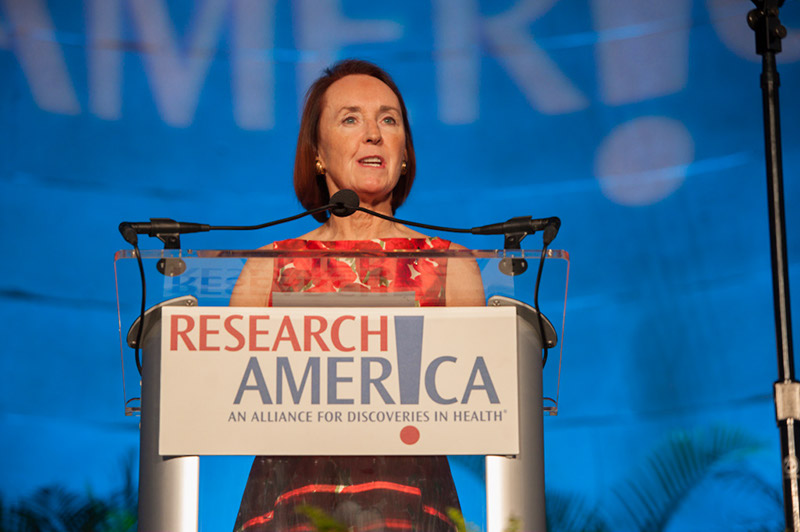 Dear Research Advocate,
Physician and author Dr. Alison Escalante wrote in Forbes this week: "According to [a survey commissioned by Research!America], a strong majority of Americans agree that 'the Covid-19 pandemic is a disruptive event and requires urgent refocusing of America's commitment to science.'" Results from the survey were also featured in The Aspen Institute's Science & Society publication released today. See the survey here.
You can use the survey data to act on behalf of science right now! Visit www.VoteScienceStrong.com to engage with candidates on the strategic significance of R&D and the multi-faceted benefits of faster medical and public health progress. Use #VoteScienceStrong on social media to join the conversation. We need science-strong policymakers in Washington. This election is too important to the future of medical, public health, and scientific progress for any of us to sit it out.
On Pennsylvania Ave: Today, the Administration released a comprehensive national strategy on critical and emerging technologies, noting "American dominance in science and technology is more important now than ever, and is vital to our long-term economic and national security." Among many points of interest, the strategy includes increasing the priority of R&D in federal budgets and encouraging more public-private partnerships.
On Capitol Hill: Senate Majority Leader Mitch McConnell (R-KY) has announced plans to vote on a stimulus package that includes funding for schools, hospitals, and the Paycheck Protection Program. The bill, which is unlikely to be taken up by the House, is not expected to include any dollars to supplement pandemic-eroded research funding. House Speaker Nancy Pelosi (D-CA) and Treasury Secretary Steven Mnuchin continue to talk in hopes of reaching agreement on an emergency supplemental bill, but progress is not forthcoming. Urge your representatives in Congress to help break the stalemate! Use this editable email to encourage them to support a package that includes at least $26 billion to supplement pandemic-eroded research funding. Back up your email with a tweet.
Change Starts with Awareness: Next week is National Health Education Week with the theme "Health Education as a Catalyst for Change." Each day offers a timely webinar on topics including health equity, emergency preparedness, and mental health. Follow the hashtag #NHEW and consider sharing our trusted, disease-specific fact sheets. Together, we can make change happen.
Civic Engagement Microgrant Webinar: Thanks to support from the Rita Allen Foundation, we are again funding projects for young scientists from any discipline (in fact, we encourage interdisciplinary teams). If you are a member of or know of any graduate student or postdoc-led science policy groups, join our webinar on October 22, 2020. Applications are due by November 9.
Alliance Member Meetings: There was a terrific turnout for today's alliance member meeting, which featured Drs. Rebecca Williams, Acting Director and Anna Fine, Deputy Director of ClinicalTrials.gov from the National Library of Medicine at NIH. They detailed the role ClinicalTrials.gov is playing in COVID-19 information-sharing and the status of a major ClinicalTrials.gov modernization project in which Research!America has been participating. Access the summary report of the modernization comments here, and access a recording of today's meeting here.
Sidenote— Among the wealth of information Becky and Anna shared, ClinicalTrials.gov statistics provide evidence of the toll COVID-19 is taking on non-pandemic related research: while the number of COVID-19 trials reported on the site has been increasing, they reported a notable drop in non-COVID-related trials listed. Slower medical progress at a time when the importance of medical progress has never been more obvious? It's definitely worth repeating: please use this advocacy tool to fight for supplemental research funding!
Coming Up: Join us for next week's alliance member meeting with National Institute of Neurological Disorders and Stroke (NINDS) Director Dr. Walter Koroshetz and BRAIN Initiative Director Dr. John Ngai, who will provide an update on this critically important project. We have also asked Drs. Koroshetz and Ngai to discuss neuroethics, a topic gaining more attention as neuroscience continues to forge new ground. Register here.
As a reminder, check out our landing page for research-relevant news and visit our alliance member meeting webpage for a listing of upcoming events.
Stay well, stay safe, and stay connected.
Sincerely,
Mary Woolley