With the Election Behind: Science Full-Steam Ahead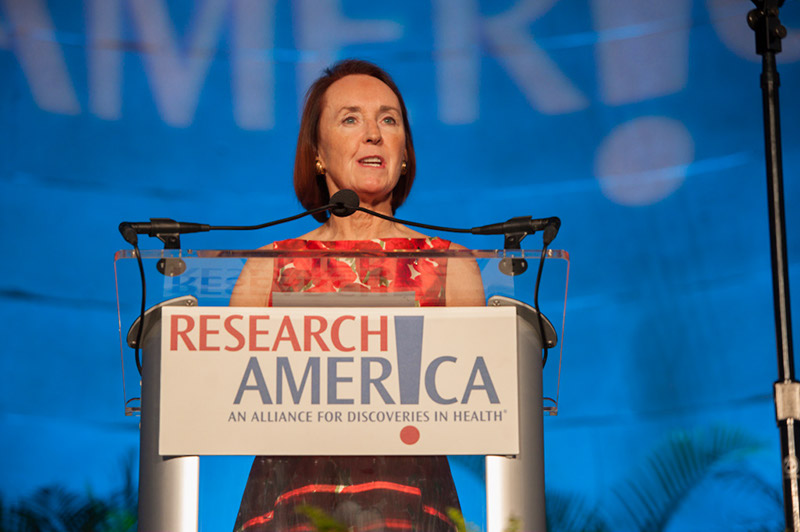 Dear Research Advocate,
Earlier this week, we held our Post-Election Briefing with a terrific panel featuring national public health leader Dr. Georges Benjamin, award-winning journalist Frank Sesno, and Capitol Hill veterans Cybele Bjorklund and Pete Kirkham. Through the lens of science and public health, we discussed the election results, the lame duck Congress, the upcoming 117th Congress, and a future Biden Administration.
What surprised the panelists the most about the election: the high levels of voter participation despite the pandemic. Another area of consensus: the election results provide a crucial opportunity to elevate science and to rebuild our public health infrastructure, actions both strongly supported by the public according to our recently commissioned survey, (done on behalf of a working group formed to address our nation's commitment to science). The panelists also discussed what progress can be made now and in the future against the pandemic by the incoming administration. Speaking with Bloomberg Law last week, Ellie Dehoney noted she "expects public health recommendations like mask wearing and social distancing to pick up dramatically under Biden as well as efforts to improve contact tracing."
In addition to the public announcement of a COVID-19 taskforce, President-elect Biden earlier this week released a list of transition team members assigned to assess all federal agencies in preparation for the incoming Administration. To better understand the important role of these agency review teams and other key mechanics behind presidential transitions in the U.S., an excellent, behind-the-scenes source is the Center for Presidential Transitions website. Another helpful resource is this list of key dates on the government calendar between now and January 20 (which many of us at Research!America have taped to our desks).
New administrations often create federal roles to fit the timely needs of the nation. Do you have ideas for specific science and technology roles needed at the federal level or recommendations for people to serve in these and other roles? An independent effort is being led by the Federation of American Scientists (FAS), with support from the Day One Project. FAS is particularly interested in mining the great talent outside of the Beltway. Information here; deadline, December 1, 2020.
On Capitol Hill: While the Presidential transition is underway, Congress is wrapping up its 116th session. Earlier this week, Senate Appropriators released all 12 of their proposed FY21 funding bills, a starting point for negotiations with their House counterparts. The bills provide increased funding levels for several key health, medical, and scientific agencies, including NIH, NSF, and FDA. Both Senate Majority Leader Mitch McConnell (R-KY) and House Speaker Nancy Pelosi (D-CA) have expressed support for moving an "omnibus" appropriations package. This means reaching agreement on all 12 bills and moving them together towards passage and ultimately the President's desk, hopefully by December 11 (the end date of the current CR). Alas, we can't rule out the possibility of a short-term CR if Congressional negotiators are unable to reach agreement.
Greater uncertainty looms over whether agreement will be reached on an emergency supplemental spending package before year's end. Reports are that the White House may be stepping away from the table, leaving the House and Senate to try to come to agreement on their own. In a statement yesterday, we urged Members of Congress to work together on increased funding for FY21 and on an emergency supplemental that includes the investment needed to replenish delayed and disrupted research. We will certainly continue to keep advocating and to keep you updated.
Public Health Thank You Day: November 23, 2020 — always the Monday before Thanksgiving — Research!America and allies recognize the unremitting efforts of those who work in public health to keep our families and communities safe. This year, with COVID-19 continuing to rage, Public Health Thank You Day has an outsized meaning. Please join in to express your gratitude to this critical workforce operating 24/7 under challenging and too often poorly-resourced conditions.
Science in Real Time: Join us next Thursday, November 19, 2020 at 11 a.m. ET for a special webinar: "RNAi: From Nobel Winning Science to Next Generation Treatment." Moderated by former NIH Director and Research!America board member Dr. Elias Zerhouni, the briefing will feature scientists from the private sector and academia including Nobel Laureate Dr. Phillip Sharp. This groundbreaking technology benefits those in the rare disease community and holds promise for other unmet medical challenges – including COVID-19. Registration is free of charge, but space fills up quickly. Register today.
Alzheimer's Awareness: November is National Alzheimer's Disease Awareness Month. Researchers have identified several genes associated with Alzheimer's which have led to medications helpful in mitigating symptoms. Read and share our fact sheet on Alzheimer's and the hope for a cure that starts with research.
Engagement Opportunity: Are you a patient or caregiver interested in improving the quality and efficiency of clinical trials? The Clinical Trials Transformation Initiative (CTTI) is seeking patient and caregiver representatives to join its Steering Committee. Applications are due Sunday, November 22, 2020.
Be on the Lookout: Watch your inbox for an announcement about our 2021 Advocacy Award nominations. The nomination process will be open soon!
Stay well, stay safe, and stay connected.
Sincerely,
Mary Woolley