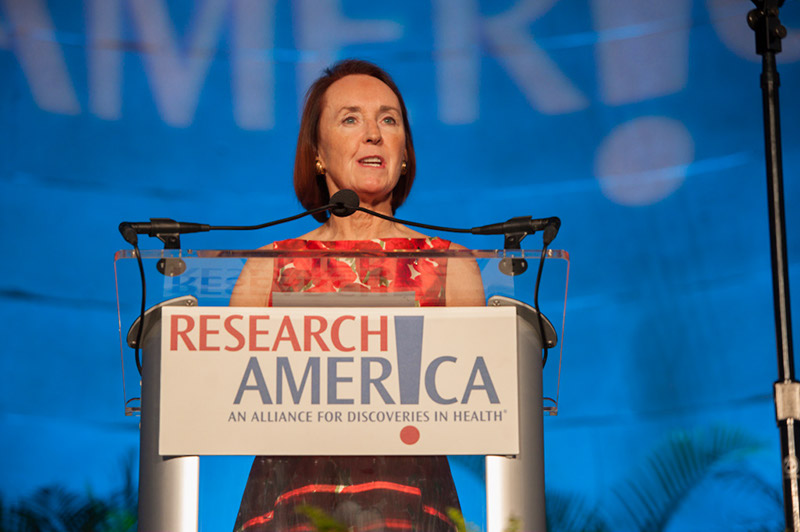 Dear Research Advocate:
This week has been rife with chilling public health news. You may have seen the widely-covered announcement that life expectancy in the United States has once again dropped, driven for a third year in a row by opioid (including fentanyl) abuse, a surge in suicide, especially in rural areas, and a spike in flu deaths. A sustained decline in life expectancy has not been seen in the U.S. for a century, since the devastation of World War I and the Pandemic flu of 1918. Read the full story. Also in the news are climate reports pointing to interconnected global health risks that are not going to go away on their own.
Research and innovation are essential to ensuring our nation's ability to build a public health infrastructure for the long haul, so we can effectively tackle social determinants of health and assure a rapid response to public health emergencies from the still-unchecked spread of polio-like acute flaccid myelitis (AFM), Ebola (the current outbreak is the second largest in history) and so much more. It is increasingly clear, as Senator Roy Blunt said on accepting the Global Health Technologies Coalition's Champion Award last evening, that "we can't separate global health from American health."
Senator Blunt went on to discuss the importance of assuring global health security. CDC Director Dr. Robert Redfield, who is committed to putting science into action to solve public health problems, has noted that CDC is the "tip of the spear" when it comes to assuring that security. A new CDC publication, Global Health Security: Protecting the United States in an Interconnected World makes the case effectively: without action, economic as well as health devastation will be constants instead of anomalies. (See an arresting infographic here.)
Members of Congress have returned to wrap up the 115th Congress. FDA and NSF are among the departments and agencies currently flat-funded through a continuing resolution (CR). Policymakers have discussed rolling the final seven appropriations bills for FY19 into a minibus package to pass before the December 7 expiration of the CR. However, this week President Trump requested $5 billion in funding for a border wall and has threatened to veto any legislation without it. If Congress and the Administration cannot come to a resolution by December 7, there may be a partial shutdown of the government or another CR until a deal is struck.
The mission and aims of FDA and NSF bear crucially on the pace of life-saving medical progress and global economic competitiveness over both short- and long-term. Please take a moment to tweet at your elected officials to urge them to complete the FY19 funding process for these valuable agencies.
With only a few weeks left in the 115th Congress, the Senate has yet to confirm Dr. Kelvin Droegemeier as Director of the Office of Science and Technology Policy (OSTP). Many of our nation's most pressing issues, from health to energy to national security, require strong scientific leadership at the helm of the OSTP. Contact your Senators today to urge them to confirm Dr. Droegemeier without further delay!
As you may be aware, the Department of Health and Human Services is engaged in a comprehensive review of fetal tissue research. Patient groups and others are being heard from this week; previously, scientific societies were invited to weigh in. The fact that fetal tissue research plays a role in the development of vaccines against HIV/AIDS and treatments for diseases such as hemophilia and cystic fibrosis speaks eloquently to its life-saving potential. We can't afford to cordon off an area of research that could save millions of lives. We will stay engaged as this DHHS evaluation process unfolds and will let you know of advocacy opportunities.
December 1, 2018, will mark the 30th World AIDS Day. Research and innovation have truly made a world of difference in tackling this deadly virus, but the work is not done. For a more about this global health challenge, check here.
Sincerely,
Mary Woolley