Award-Winning Soprano and Neuroscience Research Advocate Renée Fleming to be Honored at Research!America Advocacy Awards Dinner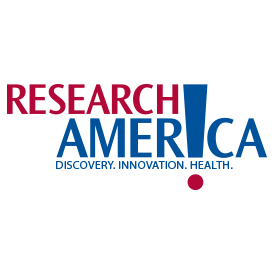 Renée Fleming, acclaimed soprano, will receive Research!America's Isadore Rosenfeld Award for Impact on Public Opinion for her commitment to research advocacy at the intersection between music, the brain, and wellness. The award, which will be presented in Washington D.C. on March 11, 2020, is presented annually to individuals who work to effectively deliver medical or other health-related research advocacy messages to the public.
Ms. Fleming is the Artistic Advisor-at-Large to The John F. Kennedy Center for the Performing Arts. She spearheads the Sound Health Initiative, a collaboration with the National Institutes of Health in association with the National Endowment for the Arts. The initiative works to enhance the potential for music as therapy for neurological disorders, identifies future opportunities for research, and creates public awareness about how the brain functions and interacts with music. As part of the project, Fleming spent two hours in a fMRI scanner, singing, speaking, and imagining a tune so researchers could explore how the brain is activated in those three situations.
"Research!America is honored to recognize Renée Fleming for her creative contributions to improving understanding about how the universal language of music plays a part in how the brain functions," said Mary Woolley, president and CEO, Research!America. "By calling attention to brain health with imaginative projects, Ms Fleming exemplifies the Rosenfeld Award's purpose of recognizing outstanding public impact."
As a creative contribution to the Sound Health Initiative, Ms Fleming created a presentation called Music and the Mind. Designed for a general audience, Music and the Mind celebrates the power of music as it relates to health and the brain. Topics include childhood development, music therapy, and cognitive neuroscience. Since September 2017, Ms. Fleming has presented Music and the Mind in over 30 cities across North America, Europe, and Asia.
As part of these presentations, Ms. Fleming invites experts around the country to present their research and discuss their findings. She also showcases the evolutionary role music has played in creating community, as well as case studies and individual stories of how music has changed lives. As she travels, she collaborates with leading neuroscientists, researchers, and music therapists with the goal of bringing new information to audiences who are fans of her music. With her work at the intersection of music and medicine, she strives to improve public awareness, as she advocates for additional research on music, the brain, and wellness.
Renée Fleming is one of the most highly acclaimed singers of our time. In 2013, President Obama awarded her America's highest honor for an artist, the National Medal of Arts. Other awards include Germany's Cross of the Order of Merit, the Fulbright Lifetime Achievement Award, Sweden's Polar Music Prize, the Chevalier de la Légion d'Honneur from the French government, Honorary Membership in the Royal Academy of Music, and honorary doctorates from Northwestern University, the University of Pennsylvania, Harvard University, Duke University, Carnegie Mellon University, the Eastman School of Music, and The Juilliard School.
Renée's memoir, The Inner Voice, published in 2004, is currently in its 16th printing. It has also been published in the United Kingdom, and translated and published in France, Germany, Japan, Poland, Russia and, most recently, China.
Winner of four Grammy Awards, Ms. Fleming is passionate about the human voice in every kind of music, and is fascinated by the science connecting music with human evolution and health, as well as the increased use of music in research to expand our understanding of the brain.
Previously announced 2020 Research!America Advocacy Award winners are Bruce M Alberts, PhD, former president of the National Academy of Sciences and past-editor of Science magazine; Myron M. Levine, MD, DTPH, associate dean for Global Health, Vaccinology & Infectious Diseases at the University of Maryland School of Medicine; Gary J. Nabel, MD, PhD, chief scientific officer and senior vice president for Global Research & Development at Sanofi; Paul A. Offit, MD, professor of Pediatrics at Children's Hospital of Philadelphia; Michael M. E. Johns, MD, professor of the Schools of Medicine and Public Health at Emory University; Mary Fogarty McAndrew, chair of the John E. Fogarty Foundation for Persons with Intellectual and Developmental Disabilities; and the National Multiple Sclerosis Society. The recipient of the Whitehead Award, presented to one or more elected officials, will be announced in the coming weeks.
For more information about the 2020 Advocacy Awards Dinner, visit www.researchamerica.org/AdvocacyAwards.
Contact: Robert Shalett
571-482-2737
rshalett@researchamerica.org
About Research!America
The Research!America alliance advocates for science, discovery, and innovation to achieve better health for all. Visit www.researchamerica.org.