Health, Well-being and Prosperity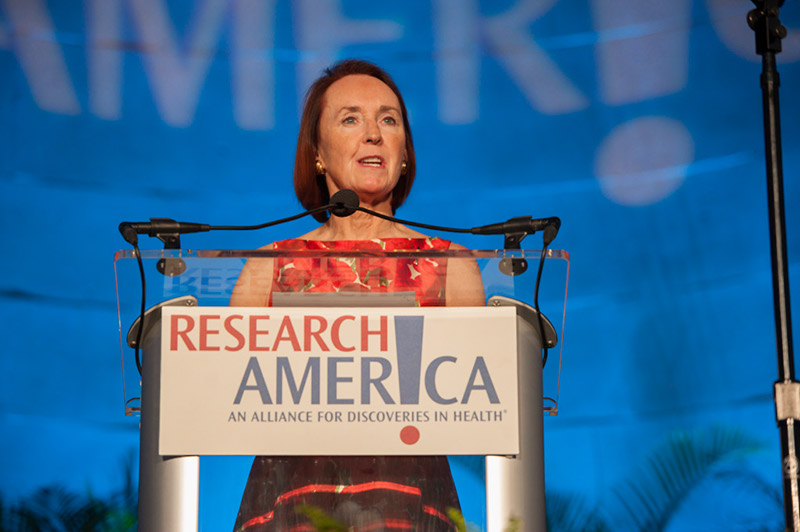 Dear Research Advocate:
In United for Medical Research's terrific Amazing Things Podcast series, chairman of the House Labor-HHS Subcommittee, Tom Cole (R-OK) talks about what investments in research mean for the health, well-being and prosperity of America and Americans. Listen in – Chairman Cole can teach us all a thing or two about high impact advocacy!
It is important for stakeholders in research to take time to demonstrate the utility of research and innovation investments, speaking out to current and future Congressional champions on both sides of the aisle. With that aim in mind, Research!America has expanded our bipartisan candidate engagement initiative for the midterm elections, thanks to partnership support from many scientific societies. We are accepting — until August 10 — "micro-grant" proposals from graduate student and postdoc-led science policy groups interested in candidate outreach. More information on the initiative can be found here.
It's difficult to think of a research or advocacy goal more meaningful than reducing the incidence of child abuse and neglect. As I've mentioned in previous letters, Research!America has had the privilege of participating in an effort to start a new national conversation about this public health (and safety and justice) issue, most recently in a joint op-ed with Dr. Richard Krugman.
The EPA held a public witness hearing this week on their proposed rule for Strengthening Transparency in Regulatory Science. Today, we submitted comments to the acting EPA administrator, Andrew Wheeler, reflecting the recommendations submitted by the National Academies earlier in the week and emphasizing the need for macro, not just micro, changes in EPA's approach.
We — and many stakeholders in research and innovation — have urged Congress to act to end the medical device tax in order to remove a barrier to investment where it is sorely needed. One clear example of an unmet med tech need: diagnostics that allow for early disease detection. From pancreatic cancer (Code Purple Now is leveraging innovative thinking to accelerate toward an early diagnostic) to Alzheimer's Disease (Bill Gates and Leonard Lauder are partnering with the Alzheimer's Drug Discovery Foundation to do the same), to chronic traumatic encephalopathy (CTE) (a recent study found promising results that could advance efforts to diagnose this disease, which now can only be confirmed after death), diagnostics are a vastly underappreciated piece of the puzzle in efforts to overcome deadly and debilitating health threats.
In regard to CTE, Research!America was proud to work with member organization, the Patrick Risha CTE Awareness Foundation, to secure the addition of this high burden, high risk condition to CDC's A to Z Index of Conditions and Diseases, an important public health resource on the agency's website. Knowledge is power, and more public awareness and more advocacy can close the diagnostics gap. Take a minute now to weigh in on repeal of the medical device tax.
There is still time — the deadline is Friday, Aug. 3 — to submit nominations for Research!America's new Herbert Pardes Family Award for National Leadership in Advocacy for Research, named in honor of one of our nation's most outstanding leaders of medicine, health and advocacy and the equally extraordinary family of which he is part. More information and submission instructions can be found here.
Registration is now open for our National Health Research Forum in Washington, D.C. on September 6. Join us and a host of extraordinary leaders from across the R&D ecosystem. This just in: we are excited to announce that we will be joined by Secretary of Health and Human Services, Alex Azar. Do plan to be there!
Sincerely,
Mary Woolley