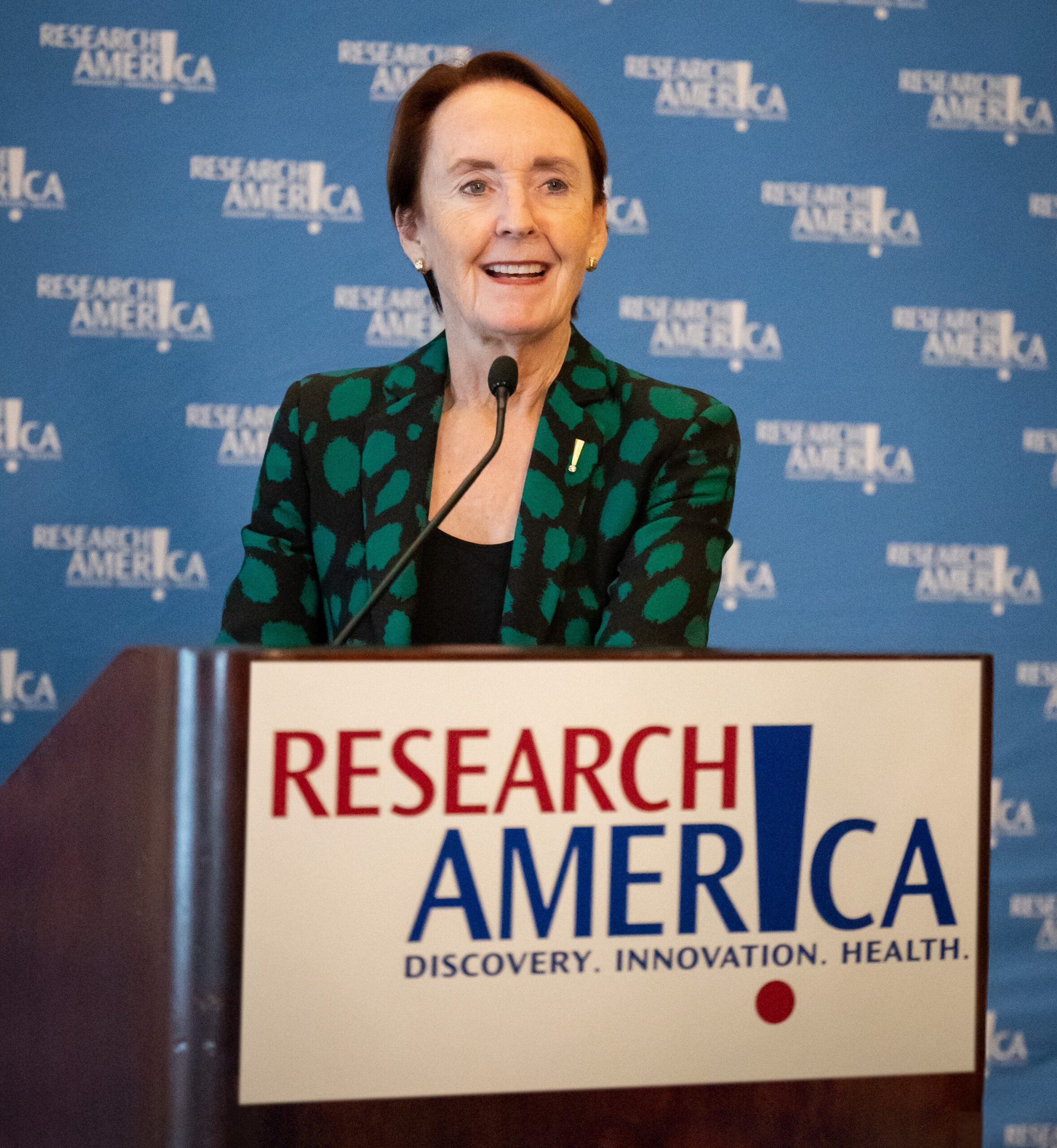 Dear Research Advocate,
Everyone who joined us for the 2023 Advocacy Awards was dazzled by our honorees, who participated in deftly moderated panel conversations about urgent priorities – overcoming resistance to trusting science and improving science communication. In her remarks, outgoing Research!America Board Chair Susan Dentzer shared a powerful image, quoting Dr. Lewis Thomas: "Statistically the probability of any one of us being here is so small that you would think the mere fact of existence would keep us all in a contented dazzlement of surprise."
The dazzlement of the surprise called science became a fitting motif for the evening. Thank you everyone who attended and to our many sponsors who made the evening possible. See photo highlights. 
New Board Leaders: Yesterday, the Research!America Board of Directors elected new leaders. Outgoing Chair Dentzer is succeeded by Sudip Parikh, PhD, and outgoing Vice Chair, the Honorable Bart Gordon, is succeeded by Georges Benjamin, MD. We are dazzled by these leaders for their stellar commitment to research and innovation. Read our press release for details. (And, for our members, be sure to join our annual meeting on April 20 when we ask you to elect new Board members, as well as enjoy a first-rate program.)
Budget Talk: President Biden released more details on his budget request this week and numerous federal agencies have circulated their budget justifications, filling in many of the gaps from last week's "Budget in Brief" announcement. Justifications for NIH, CDC, FDA, and AHRQ detail the need for funding for our federal research agencies. 
A Nature article quotes our own Ellie Dehoney about the disappointing request for NIH and what the President's budget overall means for U.S. competitiveness. (For those who love the fine print, check out a recent report from the Congressional Research Service that provides an in-depth look at NIH funding over the years, where it comes from, and what it supports.)
Weigh In On Preparedness: As we've mentioned before, Congress has launched efforts to reauthorize the Pandemic and All-Hazards Preparedness Act (PAHPA). Predating COVID-19, PAHPA serves as the basis for much of the federal government's response to pandemics. The Senate is seeking input, including ideas to improve health care provider response to public health emergencies and ways to bolster partnerships between the public and private sectors. Send comments by March 29. Stay tuned for a members-only alliance member meeting on this topic.
Learn How to Be Heard: Responding to Requests for Information (RFIs) from federal agencies can feel daunting, but we can help you make your views heard. On Tuesday, March 21, at 1 p.m. ET, we'll be joined by Yvette Seger of the Federation of American Societies for Experimental Biology to discuss RFIs and NPRMs (Notice of Proposed Rulemaking), and how to respond to them. Bring your questions and join us.
Two NIH RFI deadlines are quickly approaching. The National Institute of Allergy and Infectious Diseases is seeking researchers' perspectives to update its DEIA strategy; the deadline is March 31. Additionally, NIH is seeking input on how to improve the experience of postdoctoral researchers during their training; the deadline is April 14. 
Clinical Trial Diversity: NIH is hosting a virtual workshop on March 30 and 31 to bring together stakeholders across the R&D ecosystem to share ideas and concrete actions to make participation in clinical trials more inclusive. We have been helping to design this workshop and are pleased to be participating. Learn more and register.
Insider Insights: Research!America is holding a virtual briefing for congressional staff and you're invited too! "NIH: The Essentials," on March 29, from 11 a.m. to noon ET, features Susan Dentzer in discussion with Ned Sharpless, MD, about what the NIH does, how it does it, and why – and also why medical progress doesn't move faster. Among other notable roles, Dr. Sharpless served as Director of the National Cancer Institute (2017-2022).
Addressing The Opioid Crisis: Join us on Wednesday, March 22, at 11 a.m. ET for an alliance discussion with Nora Volkow, MD, Director of the National Institute on Drug Abuse. We'll discuss where we are on the arduous path to ending this crisis and how public and private sector-fueled research is contributing to the battle. We welcome your questions and insights.
Stay well, stay safe, and stay connected.