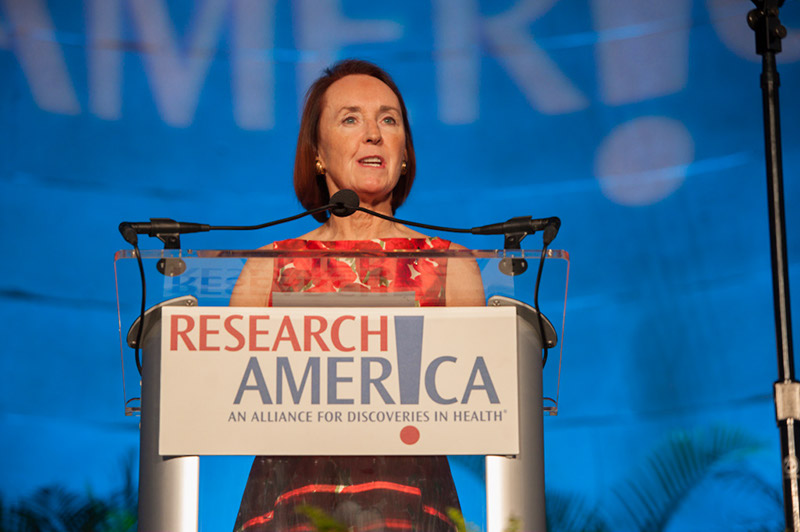 Dear Research Advocate,
Let's cut to the chase: There is so much at stake right now as Congressional leadership and the Administration negotiate the next COVID-19 supplemental, timing included. It's a 'now' situation for Americans and those who represent them; it's a 'now' situation for advocates, too. Research!America sent a letter to Congressional leadership urging them to include at least $26 billion in supplemental research funding in the legislation.
Now is the time to meet the moment — don't let disappointment or fatigue set in — your advocacy has worked in the past and it can work again! Reach out now and encourage your Members of Congress to weigh in with negotiators to achieve a bipartisan deal that includes research grant supplements to address sizable funding gaps created by COVID-19. Among the many good reasons to act: patients are waiting!
At the same time: Last Friday the House passed a second FY21 appropriations minibus package (read our statement) that included funding for NIH, CDC, NSF, and AHRQ. Meanwhile, the FY21 process on the Senate side of the Capitol is on hold. We have heard that Senate appropriators are weighing whether to include FY21 funding in the above-mentioned next COVID-19 supplemental in order to avoid a continuing resolution (CR). We will continue to monitor developments closely and will keep you advised.
Also Developing: This week the Fetal Tissue Advisory Board held its inaugural meeting to review research that has already qualified for funding under peer review. As you may recall, this Board was established to conduct an additional "ethical review" of this research, even though fetal tissue research is already subject to strict, bioethical evaluation and standards. Beyond the obvious concerns (delay, extra costs) of this layer of red tape, the lack of a patient advocate on the Board is glaring. If the Board — any advisory board for that matter — is charged with subjectively reviewing the value of research without the input of its immediate beneficiaries, what message does that send? The Board's decisions are expected within the next two weeks.
Taking a Stand: Recently, we highlighted the commitment by AAAS to "take concrete actions to address systemic racism." Today, BIO announced the BIOEquality Agenda, a three-part initiative focused on promoting health equity, investing in the next generation of scientists, and promoting business opportunities in the biotechnology industry for underrepresented groups. Dr. Michelle McMurry-Heath, BIO's CEO, shares the new agenda.
Disinformation is Deadly: August is National Immunization Awareness Month, and for good reason, given the onset of the annual flu season. But this year, COVID-19 adds an extra layer of concern. Please share our Vaccines fact sheet — (one of many fact sheets in our shareable library) to raise awareness about the significance of vaccines and combat misinformation. We're also posting the first installment of a series on our blog about the science behind viruses and vaccines. Please follow us on Twitter @ResearchAmerica and #IVax2Protect this month for vaccine-related content.
Vaccine Allocation: The National Academies of Sciences, Engineering, and Medicine (NASEM) have been tasked by NIH and CDC to develop a framework to help determine the equitable allocation of the COVID-19 vaccine. You can listen in during their public workshop this Friday afternoon.
Registration Opening Very Soon: We'll be examining the COVID-19 vaccine from many angles during Straight Talk: 2020 Virtual National Health Research Forum. Our program features leaders from government, patient advocacy, academia, and industry over three partial days — September 8, 9, and 10. Join us for highly interactive panel discussions, one-on-one interviews with newsmakers, personal stories from patient advocates, and more. Free of charge, from the convenience of your own screen. Full lineup and registration is coming soon!
Stay well, stay safe, and stay connected.
Sincerely,
Mary Woolley