Inaction is the Wrong Choice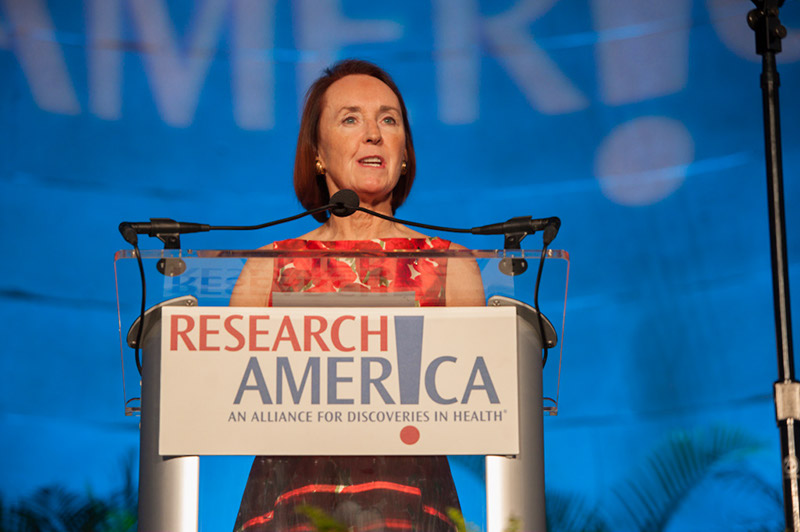 The pandemic continues to reconfigure our society and our individual lives. Our R&D ecosystem is simultaneously at the center of the COVID-19 response and placed at risk by it. What is certain during this profoundly uncertain period in our nation's history is this: inaction breeds tragedy.
Inaction on Capitol Hill: Negotiations over desperately needed emergency spending legislation and FY21 appropriations are in a holding pattern. In a troubling sign, reports today surfaced that federal agencies have been told to prepare for flat funding via a CR through December. Let's face it: federal leaders are waiting to see who blinks first, even as desperation mounts and priorities like medical progress flounder. To federal leaders and advocates alike: inaction is a choice – the wrong one.
Thank you to the hundreds of advocates who have answered our call to reach out to Congressional leadership through Twitter and to your Members of Congress through email about emergency spending. Doing so once is terrific; doing so again and again until action happens is advocacy that works.
Any lull in advocacy now suggests we are resigned to delays that are permitting COVID-19 to undermine lives, progress, and hope. Weigh in again now to spur policymakers to reach a deal that includes at least $26 billion in supplemental funding to restore pandemic-eroded research dollars. Here are links for Twitter and email advocacy options.
Securing a Science-Strong Future: Our National Health Research Forum is coming up: September 8-10, 2020. Registration is now open.
Our virtual platform allows us to include more than 90 speakers. We'll explore the role of public and private sector-driven science in combating COVID-19 and other deadly and debilitating health threats and hear from patients and policymakers. We can emerge stronger and more committed to securing a healthy, prosperous, and secure future, but it's impossible to do so without intention and advocacy. That's what this Forum is all about.
Free and open to the public, the Forum will feature:
Interactive panel discussions on key topics such as vaccine hesitancy and health disparities;

Conversations with federal officials and other leaders: Representatives Diana DeGette (D-CO) and Fred Upton (R-MI); NIH Director Dr. Francis Collins, FDA Commissioner Dr. Stephen Hahn, CDC Director Dr. Robert Redfield; NIAID Director Dr. Anthony Fauci; PCORI Executive Director Dr. Nakela Cook, and BIO President and CEO Dr. Michelle McMurry-Heath.

A series of insightful reflections from 20 diverse voices, including AHRQ Director Gopal Khanna, National Cancer Institute Director Dr. Ned Sharpless, NIH Office of Research on Women's Health Director Dr. Janine Austin Clayton, former Secretary of HHS Dr. Louis Sullivan, former Senate Majority Leader Dr. Bill Frist, philanthropist Lyda Hill, "healthcare checklist" originator and prominent health services researcher Dr. Peter Pronovost, and more;

A "flash talks" competition featuring young scientists from academia and industry; and

Powerful personal stories from patient advocates, networking opportunities, and much, much more.
Timely opportunities: Two of the topics that will be discussed at the Forum, vaccine confidence and diversity and inclusiveness in the R&D ecosystem, are very much top of mind for us all. On those topics:
The National Academies of Sciences, Engineering, and Medicine (NASEM) is hosting a multi-day public workshop on vaccine access and hesitancy (register here).

The American Physiological Society is circulating a letter to House Science Committee Chairwoman Eddie Bernice Johnson (D-TX) supporting her call for a NASEM study on the influence of systemic racism in academia. Research!America has signed on; the deadline for joining the letter is August 28, 2020.
Immigration Update: We hosted an alliance member meeting with Scott Corley to discuss an Executive Order President Trump issued on H-1B visas. Scott reviewed the more-than-likely issuing of new regulations that would make immediate changes to the H-1B program and potentially other visa programs that directly affect STEM students.
As Scott mentioned, if those new regulations do materialize, there will almost certainly be opportunities for organizations to join amicus briefs in opposition to the regulatory changes. The turnaround will be very fast. We'll let you know if and when these opportunities arise.
A Call To Action: Rich in antibodies, convalescent plasma from those who have recovered from COVID-19 is desperately needed for research and treatment purposes. You may have seen ads with actor Brian Cranston (a COVID-19 survivor) or the U.S. Surgeon General, Dr. Jerome Adams, urging donation. A public-private partnership called "The Fight Is In Us" is helping recruit volunteers to donate plasma. Please spread the word!
Stay well, stay safe, and stay connected.
Sincerely,
Mary Woolley