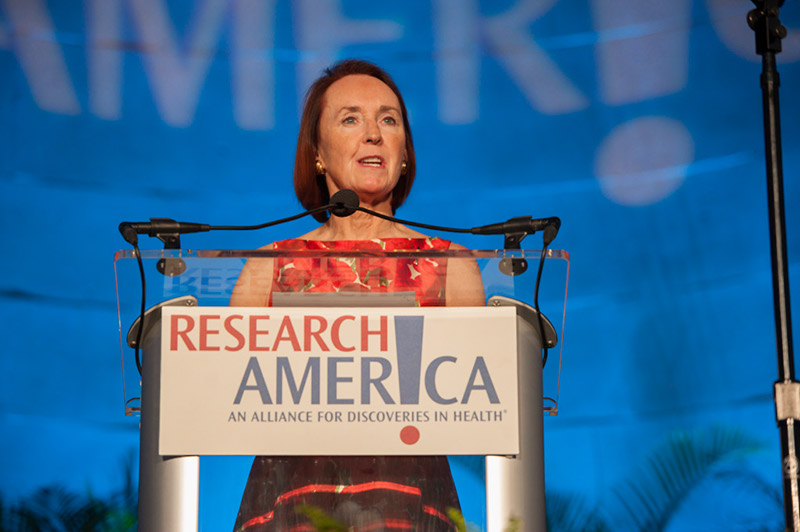 Dear Research Advocate,
On Capitol Hill: Senate Republicans have a new legislative proposal for COVID-19 emergency supplemental spending which includes provisions such as extended unemployment benefits and emergency funding for USPS, but no supplemental funding to restore COVID-19-eroded research dollars.
Speaking up now is essential if there is to be an emergency spending bill that fully fights back COVID-19's attack on the nation's economy and health security. Reach out to your members of Congress to encourage them to include at least $26 billion in funding to restart lifesaving research supported by our health and science agencies. Here are two ways you can act right away: send this editable email to your Senators and Representative and/or use this editable tweet to Congressional leadership.
Research!America Took Action Today: We sent a letter to Congressional leadership pressing for non-stop negotiations until an emergency supplemental package is signed into law that includes 1) at least $26 billion to restore COVID-19-eroded research funding, and 2) funding for the much-needed strategies Congressman Don Beyer (D-VA) lays out in his recently introduced bill, the Addressing COVID-19 Health Disparities Act (H.R.8067). His bill confronts alarming disparities in the pandemic's impact by leveraging the underappreciated and underutilized strengths of the Agency for Healthcare Research and Quality (AHRQ).
Speaking to Capitol Hill: What does Congress want from the National Science Foundation? is the attention-getting title of a new content analysis by Drs. Arthur Lupia, Stuart Soroka, and Alison Beatty. Their work demonstrates that over the years, party differences have emerged in the (mostly positive!) statements made and questions raised about the NSF by members of Congress, with Republicans more likely to focus on fiscal issues and accountability and Democrats more likely to focus on STEM education and innovation. Since it is a principle of effective communication to know your audience, findings from this study will help advocates (including scientists) hone their conversations with elected representatives. The authors highlight the importance of being "responsive to both programmatic preferences and calls to rigorously document careful stewardship of resources and tangible benefits to the taxpayer."
Speaking of the Taxpayer: The American Academy of Arts and Sciences' Public Face of Science Initiative has released the third and final report of a multiyear endeavor examining the relationship between scientists and the public. The report calls on leaders of academic institutions to expand their curricula to educate the next generation of scientists on best practices in science communication and public engagement. Our Rita Allen Foundation-supported microgrants are examples of innovation in public engagement. These and similar activities are popping up all around the nation as young scientists in training increasingly seek ways to get involved. Regularizing the skill set that makes this work so effective – and valuing it – is an overdue step forward in modernizing the relationship of scientists to society.
As you know, Research!America is all-in on better communication, public engagement, and advocacy. I was part of a conversation about these and other issues – like the importance of assuring much stronger resources for our public health infrastructure – in a recent episode of "Road to the Vaccine," a weekly program sponsored by Johnson & Johnson. Dr. Sudip Parikh, AAAS CEO and board member of Research!America also participated in this conversation moderated by Lisa Ling.
Additional Developments: Earlier this week, the Human Fetal Tissue Research Ethics Advisory Board released its recommendations on whether to fund 14 research proposals that the NIH peer review process had previously rated as meriting funding. The Board is recommending that 13 of the 14 research proposals involving fetal tissue be blocked from receiving NIH funding. There is no evidence in the report that patient or societal benefit was taken into account in the review of these grants; the only justification mentioned was the source of the fetal tissue, even though sourcing of all human tissue is subject to ethical review as part of the peer-review process. Secretary Azar is not required to accept the recommendations of this Board, and while he is undoubtedly under significant pressure to do so, we will still make the case that he should refuse to choke off thoroughly vetted, high-potential medical research.
Securing a Science-Strong Future: Have you registered for the Research!America 2020 Virtual National Health Research Forum? From your own screen, free of charge, you can engage with and learn from leaders across the medical and public health research ecosystem, spanning government, academia, patient advocacy, and industry.
In addition to newsworthy keynotes, timely panels, and thought-provoking interviews, you will see short videos in our "Twenty Voices/Three Minutes/One Question" segments throughout the program. Decision makers including Congresswoman Nita Lowey (D-NY), Congressman Greg Walden (R-OR), former Secretary of HHS Dr. Louis W. Sullivan, former Senate Majority Leader Dr. Bill Frist, infectious disease expert Dr. Peter Hotez, President & CEO of the Rita Allen Foundation Elizabeth Christopherson, and CEO of the American Medical Association Dr. Jim Madara, to name a few, talk about urgent priorities for every stakeholder in science and innovation. Don't miss it: September 8-10, 2020.
Stay well, stay safe, and stay connected.
Sincerely,
Mary Woolley