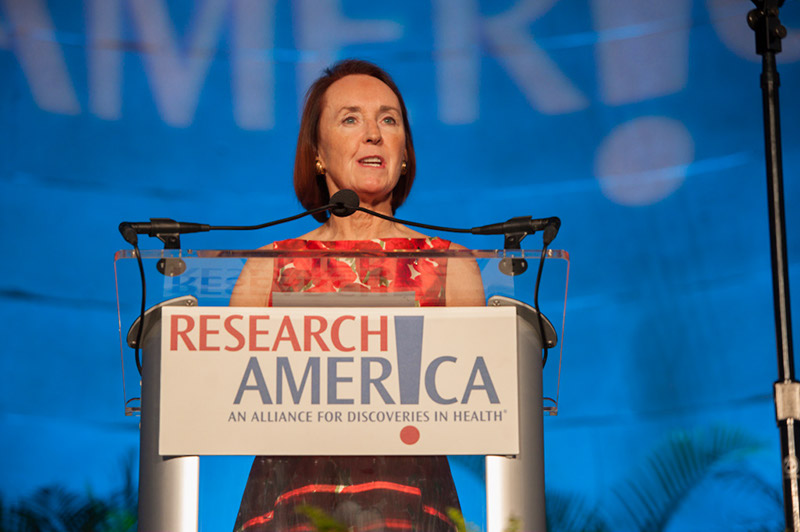 Dear Research Advocate,
On his 99th day in office, President Biden delivered a policy-focused address to a joint session of Congress. It featured a science strong message, noting how our nation is falling behind in our R&D investment, very much echoing the recommendations of the Science and Technology Action Plan that we've mentioned regularly in this letter. I was struck that the President equated the importance of breakthroughs for health security with breakthroughs in defense security – putting these investments, at least rhetorically, on a level playing field, of equally high value for the American public. View Research!America's statement on the President's remarks here.
On the Hill: Senators Bob Casey (D-PA) and Richard Burr (R-NC) are urging their fellow Senators to sign on to a letter in support of a strong commitment to NIH funding in FY22. Use this editable email/tweet to urge your Senators to sign on to this letter. Much more to come on NIH appropriations advocacy!
Also on the Hill – Lander Hearing: The Senate Commerce Committee held a hearing today with Dr. Eric Lander, the President's nominee to lead the White House Office of Science and Technology Policy (OSTP). If Dr. Lander is confirmed, he will be the first life scientist to head the OSTP and the first OSTP Director to hold the role as a cabinet-level position. The hearing was overall positive in tone, and included questions on Dr. Lander's plans to increase diversity in STEM, improve STEM education, and restore America's trust in science. Dr. Lander spoke of the potential that a high-risk, DARPA-like health research agency holds. Assuming the Committee advances the nomination, it would be followed by a full Senate vote to confirm Dr. Lander, most likely in May. See our statement of support here.
Historic Action on Tobacco: Today, the FDA announced plans to ban menthol cigarettes and flavored cigars. When finalized, these actions will greatly reduce the use of combusted tobacco products, the leading cause of preventable death in the U.S. We extend a round of applause for these long-advocated evidence-based actions.
New Board Members Elected: Research!America alliance members elected a superb group of new board members during our annual membership meeting today. We welcome to the board: The Hon. Charlie Dent; Kafui Dzirasa, MD, PhD; Arthur C. Evans Jr., PhD; Dario Gil, PhD; Michelle McMurry-Heath, MD, PhD; Jessica L. Mega, MD, MPH; Lewis G. Sandy, MD, FACP; The Hon. Donna Shalala; and Cynthia Zagieboylo. Learn more about our new, and continuing, board members here.
CDC Director Dr. Rochelle Walensky addressed the annual meeting, describing her vision for the agency as well as the short and long-term challenges we face in public health. She aptly asserted that, "as a nation, we cannot achieve optimal health with our existing pattern of staccato funding for emerging threats," and, "public health must be grounded in stable and longitudinal investments."
Meeting the Moment: Yesterday, we released the Research!America 2020 Annual Report, documenting our activities and accomplishments. In 2020, we "met the moment" – alongside all of you – during the most significant public health threat of our lifetime. We worked together to ensure the resources to respond to the COVID-19 pandemic, to maximize FY 2021 budgets despite a stifling budget cap, and to raise awareness of the critical roles of both private and public sector research. We are deeply grateful for your continued partnership and support as we re-commit to advocacy for medical and health research going forward. You can read the annual report here.
Alliance Meeting Recap: Dr. Carolyn Clancy, Acting Deputy Secretary of Veterans Affairs, discussed the power and impact of VA research, as well as the agency's success in achieving diversity in clinical trial enrollment. She also outlined the agency's robust response to vaccine hesitancy among veterans.
Emily Holubowich, Vice President of Federal Advocacy with American Heart Association, then walked us through the budget process and possible appropriations outcomes. The full meeting can be viewed here. (The link includes terrific slides from Dr. Clancy with a great deal you might not know about the VA's research program.)
Upcoming Alliance Member Meetings:
Next week, on Thursday, May 6 at 2:30 p.m. ET, Dr. Ned Sharpless, Director of the National Cancer Institute, will discuss NCI's research priorities, his perspective on the potential role of ARPA-H in driving progress against cancer, and other timely topics. Register here.

On Monday, May 10 at 1 p.m. ET, Jennifer Cama with the House LHHS Appropriations Subcommittee will join us for an off-the-record conversation on Chairwoman Rosa DeLauro's priorities for the Subcommittee, FY22 appropriations, and prospects for additional supplemental funding. Register here.
Advocacy Awards: We hope you will join us to celebrate our 2021 and 2020 Advocacy Award Honorees on May 13, 2021, 4-6 p.m. ET. Their stories are inspirational. From Senator Shelley Moore Capito (R-WV) and Congresswoman Eddie Bernice Johnson (D-TX) to mRNA pioneers Drs. Kariko and Weissman, all our awardees have contributed to advancing health, medical, and scientific progress in profoundly important ways.
Speaking of honoring: in the past, many individuals honored an awardee by purchasing a ticket to the Advocacy Awards event. This year's event is virtual, open to the public, and free of charge. If you would like to make a gift in recognition of an awardee and to support Research!America, please visit our donation page. Donors will be recognized at the event.
Stay well, stay safe, and stay connected.
Sincerely,
Mary Woolley