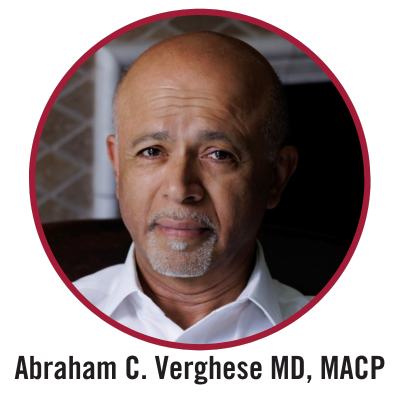 The ISADORE ROSENFELD AWARD FOR IMPACT ON PUBLIC OPINION is presented annually to a news media representative or other influential individual who has been extraordinarily effective in delivering medical, public health, or other health-related research advocacy messages to the public..
Abraham Verghese, MD, MACP, is the Linda R. Meier and Joan F. Lane Provostial Professor and is the Vice Chair of the Department of Medicine at Stanford University School of Medicine. In addition to patient care and teaching, he leads PRESENCE, a multidisciplinary center that studies the human experience of patients, physicians and caregivers. He is a '91 graduate of the Iowa Writers' Workshop and his work has appeared in the New Yorker, Granta, the Atlantic, the New York Times and elsewhere; his first book, My Own Country, was made into a movie; his last novel, Cutting for Stone, spent 107 weeks on the New York Times bestseller list. His new novel, The Covenant of Water, appears in May 2023. He is an elected member of the Institute of Medicine of the National Academies, as well as the American Academy of Arts and Sciences. In 2016 he was awarded the National Humanities Medal at the White House by President Obama.
Learn more about the Isadore Rosenfeld Award for Impact on Public Opinion.