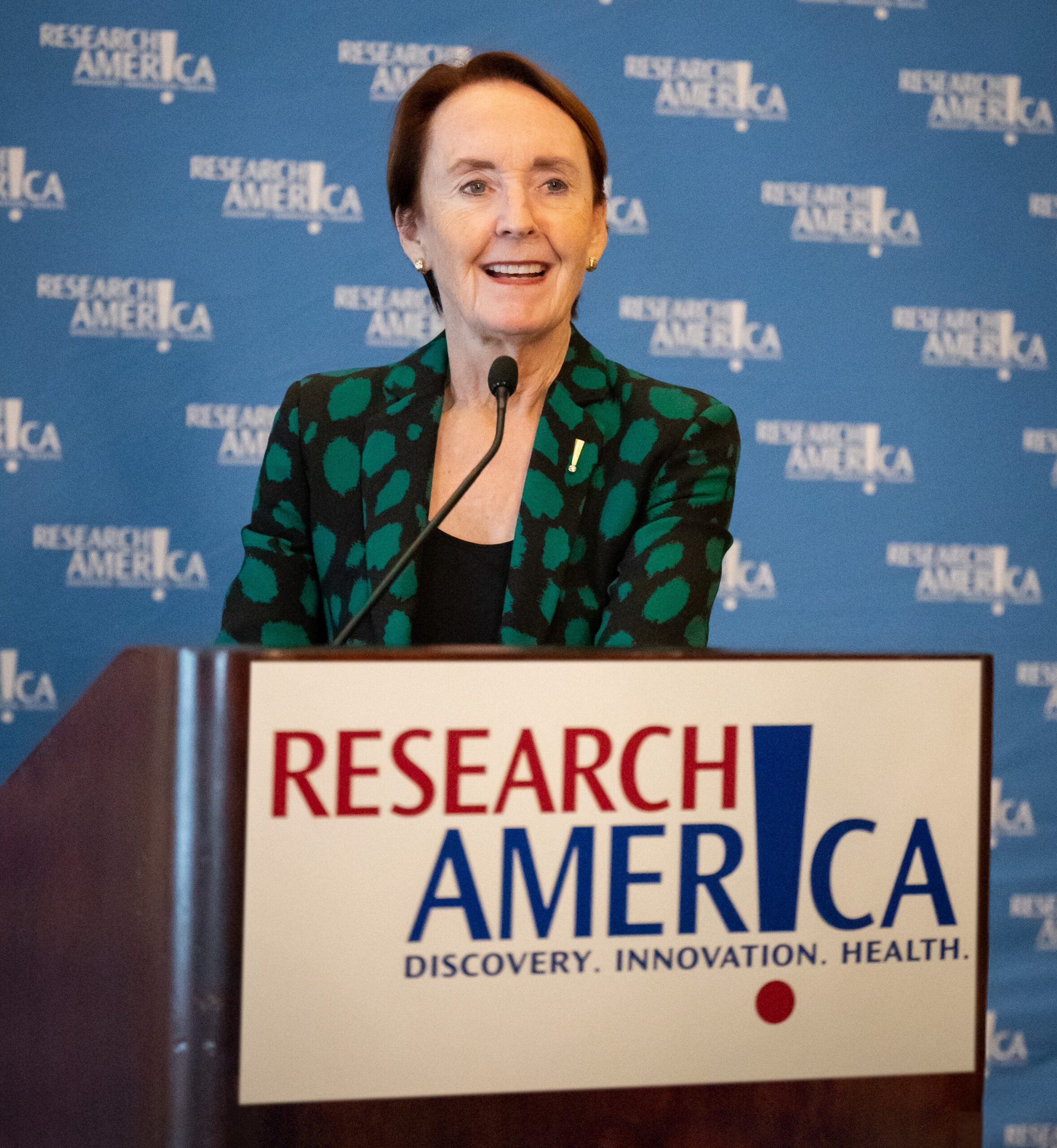 Having witnessed the setbacks and eventual triumphs of leaders in research and research advocacy for many years, I know that receiving thunderous applause is typically low-to-nowhere on the list of why they do what they do. Still, to quote Gertrude Stein, "Silent gratitude isn't very much to anyone."  
Since 1996, Research!America has recognized individuals and organizations for their remarkable contributions to science, public health, and the public good at the annual Advocacy Awards, honoring their achievements and raising awareness about the societal significance of the work they do. Please join me in applauding our 2024 honorees! Plan now to join our Advocacy Awards event on March 13, 2024. 
During that event, the Alzheimer's Association will receive the Paul G. Rogers Distinguished Organization Advocacy Award. An extraordinarily effective and vocal advocate, the Alzheimer's Association contributes in multi-faceted ways to the steep, steep climb to progress against this devastating and shockingly prevalent disease.  
No Time for Silence: As is the case with expressing gratitude, silence is rarely the right means of advocating effectively. That brings me to our ongoing #CuresNotCuts advocacy campaign, which makes the case for a final FY24 funding package that includes robust research funding. We've added a post that cites the alarming prevalence of Alzheimer's disease to our shareable campaign tools. Don't be silent! Use these resources to reach new research champions and increase the campaign's impact! 
On The Hill: On Wednesday, the Senate HELP Committee held a hearing to consider the nomination of Dr. Monica Bertagnolli to serve as the next Director of the National Institutes of Health (NIH). 
During the session, HELP Committee Ranking Member Dr. Bill Cassidy (R-LA) cited a letter we sent to Committee Chair Bernie Sanders (D-VT) and Ranking Member Cassidy that argues two major points: 1) Dr. Bertagnolli is absolutely the right leader for NIH; and 2) it would contravene the intent of federal law, the integrity of technology transfer agreements, and NIH's research mission to condition Dr. Bertagnolli's approval on a commitment to add prescription drug price adjudication responsibilities to NIH's plate. Read our statement on the Hearing.
Emerging Leaders are Using their Voice: Early career scientists understand that silence is counter to progress. Now in its sixth year, Research!America continues to award microgrants of up to $4000 for projects led by groups of early career scientists that engage their communities on the value and impact of science. The submission period for the Microgrant Program is quickly drawing to a close (October 24). We hope you will spread the word by sharing this opportunity with your networks on X (formerly known as Twitter), LinkedIn, Facebook, and now Instagram!
Making Science Accessible: In a much needed effort to make scientific research more accessible to the public (which is not only the right thing to do, but is critical to enduring, vocal support for taxpayer-funded research), the National Academies will host a two-day public workshop, November 30–December 1, aimed at improving policies surrounding public access to the findings of HHS-funded research. Learn more and register for this important workshop.
ICYMI: Last week, Edwin Oh, PhD, Associate Professor at the Kirk Kerkorian School of Medicine at the University of Nevada, Las Vegas, joined us for an alliance discussion to explain how wastewater "intelligence" can reduce the burden of infectious diseases and other illnesses that threaten the public. If you missed this engaging presentation about a vastly underappreciated area of science and public health vigilance, view Dr. Oh's slides and watch his full presentation. 
Spooked by AI? In the midst of multiple AI-related congressional and administration policy and regulatory initiatives, we continue to receive requests for alliance discussions that take a step back and address big picture AI concepts. We've asked Tom Romanoff, the Director of the Technology Project at the Bipartisan Policy Center, to join us on October 31, at noon ET, to explain the concepts, terms, capacities, and issues that distinguish AI from good old-fashioned IT. I do hope you too can join us. Costumes welcome but not required.
Just Announced – Important Alliance Member-Only Opportunity: If your organization is a Research!America member, join us on Tuesday, October 24, at noon ET, for an off-the-record conversation with Kathryn Bell, Minority Health Policy Advisor to the Senate HELP Committee. Kathryn will discuss the request for information on NIH reform from HELP Committee Ranking Member Cassidy as the deadline for stakeholder feedback (October 27) approaches. Watch your inbox for registration details and reach out to Jacqueline Lagoy for further information.