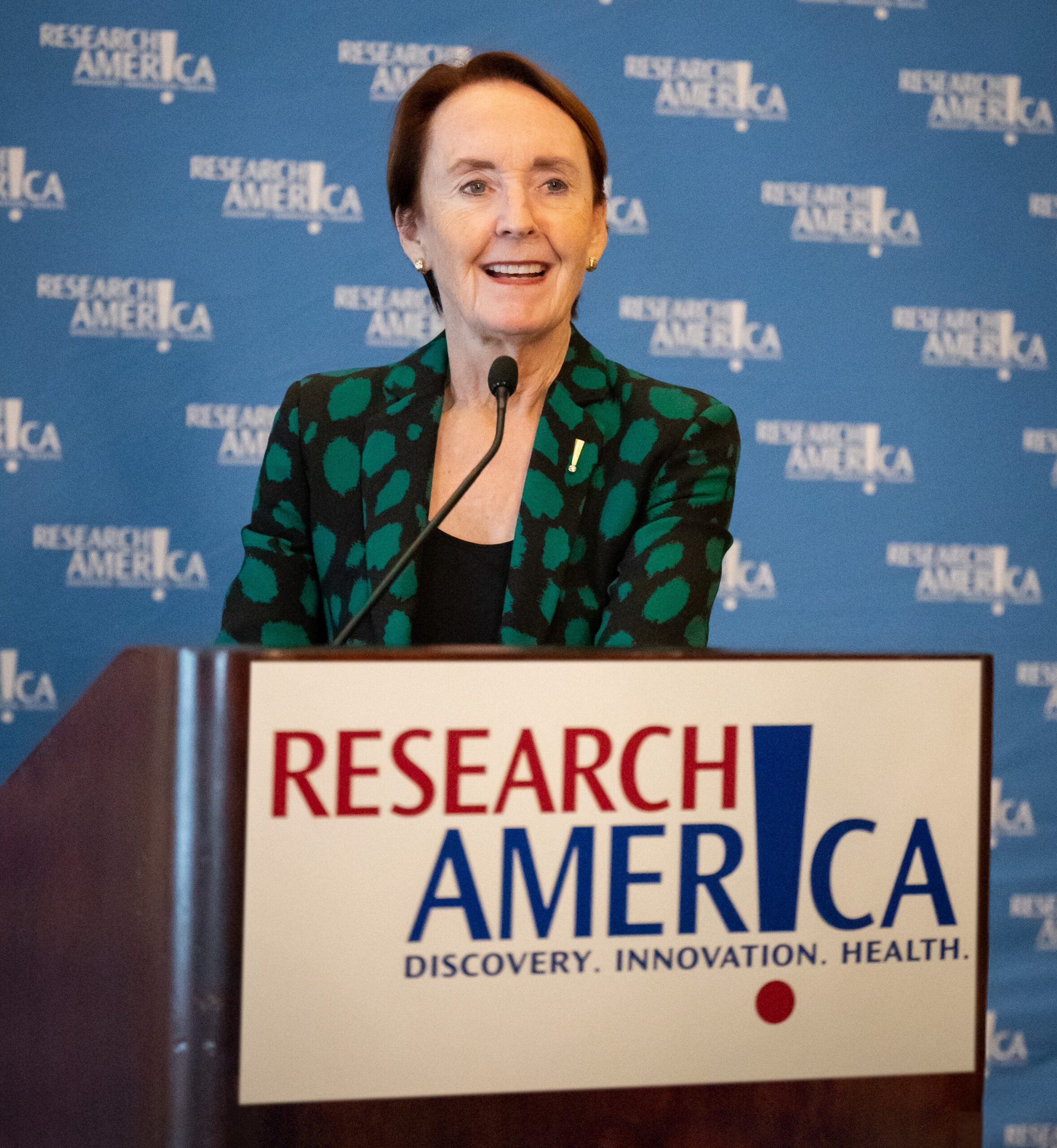 Why did I name this letter after an iconic Kate Bush song? Because the title is a great description of research advocacy. Advocates run rather than walk because the faster the progress, the more lives saved (and the more quickly we address other societal imperatives). Successes are hard-won because advocacy addresses tough challenges, not easy victories.
This week advocates reached the top of a San Francisco-steep hill: despite many competing priorities, the Senate confirmed an extraordinarily well qualified candidate, Dr. Monica Bertagnolli, as the 17th Director of the National Institutes of Health. Persistence paid off – both hers and that of the many, many advocates who made the case for her confirmation.
In an article on Tuesday reporting on Dr. Bertagnolli's confirmation, The Washington Post quoted from a letter we sent to Senate Leadership last week in support of Dr. Bertagnolli's confirmation. Read our statement applauding the favorable vote outcome.
On The Hill: In the context of today's letter, "on the hill" is of course a double entendre. The path to positive outcomes in the FY24 appropriations process is not just steep; it's treacherous. Another government shutdown countdown is on: Congress has 8 days to pass a yet-to-be negotiated continuing resolution or a shutdown will occur. There has been action in both chambers of Congress to advance appropriations bills, but the House bills remain at funding levels even lower than those negotiated as part of the debt ceiling deal passed in June.
I am about to sound like a broken record: keep pressing your representatives to complete FY24 appropriations and boost funding for research. Achieving these related objectives is both important and hard. Persistence – a lot of it – by advocates will notably increase the odds of success. Advocacy works. That leads me to…  
#CuresNotCuts: Engage, or continue to engage, in our #CuresNotCuts advocacy campaign. Did you know that, in 2022, NIH-supported research activities generated $96.8 billion in nationwide economic activity? That's nearly double the return on the public's investment in NIH that fiscal year. This week's #CuresNotCuts theme focuses on the ROI of research. Check out and use our campaign advocacy tools! 
Scaling Mountains: If you need a bit of inspiration to continue pushing for the action and funding our nation needs, look no further than Norman Augustine. The recipient of our 2024 Herbert Pardes Family Award for National Leadership in Advocacy for Research, Norm's contributions to sustaining and strengthening U.S. S&T capacity are legion. Save the date for our Advocacy Awards ceremony, taking place March 13, 2024.
What Do Effective Public Engagement Opportunities Look Like? Ensuring that those who are affected by a policy decision can give voice to their perspectives on it seems intuitive, but fully executing on that objective is yet another steep climb. Join the NIH Office of Science Policy (OSP) next Monday, November 13, for a conversation about steps OSP is taking to maximize the impact of public engagement on policy decision-making. Register now. (And take a minute to check out the civic science page on our website.)
Speaking of Public Engagement… ARPA-H has announced an important opportunity for public input. One of the ARPA-H Health Innovation Network's (ARPANET-H) regional hubs, the Customer Experience Hub, located in Dallas, is currently accepting feedback on its Advancing Clinical Trial Readiness initiative. The goal is ambitious: make clinical trials accessible to 90% of Americans within 30 minutes from their home. Review the initiative and submit your feedback by December 1.
PAHPA Sign-On Letter: The Johns Hopkins Center for Health Security is circulating a sign-on letter to Senate and House leadership urging them to move forward on the Pandemic and All-Hazards Preparedness Act. Review the letter and sign on before COB Monday, November 13. Contact Melissa Hopkins with any questions.
Alliance Discussion Updates
ICYMI:

On November 6, we were joined by

Gelise Thomas

, Assistant Director of Strategic DEI & Health Disparities at the Clinical and Translational Science Collaborative of Northern Ohio within Case Western Reserve University, for a terrific conversation about the collaborative's innovative efforts to foster clinical trials participation and diversity.

Watch the recording.

Reminder: Alliance Member-Only Discussion:

If your organization is a Research!America member, we hope you'll join us on Tuesday, November 14 at noon ET, for an off-the-record conversation with

Rob Smith

, Managing Director at Capital Alpha. We'll discuss the current funding and policy landscape as key deadlines approach in Congress. Reach out to

Jacqueline Lagoy

for more information.

Just Added:

It has been about one year since the launch of BD

2

, Breakthrough Discoveries for Thriving with Bipolar Disorder, a nonprofit effort to accelerate progress against this serious mental illness.

Join an alliance discussion

with the BD

2

team on Thursday, November 16 at 2 pm ET, to hear the latest on a novel path to much needed solutions.
Stay well, stay safe, and stay connected.